Marketing an Athletic Courts Business
A profitable athletic courts business is about more than supply and demand. It's about designing ways to entice new customers to engage with your products and to encourage existing customers to increase the frequency of their purchases.
A high-quality marketing plan connects your company to your customers. Without it, you'll quickly find your athletic courts business isolated from your base.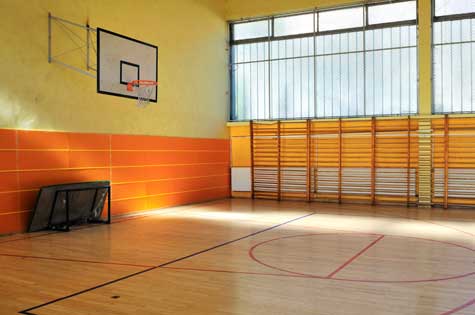 The right market approach lets smaller athletic courts businesses remain competitive with much larger businesses. Though small organizations may not have the marketing budgets of large corporations, the consistent delivery of targeted messaging has a cumulative effect on the market's consciousness.
Geolocational Marketing
Have you noticed that almost everyone has a smartphone these days? Savvy marketers believe that smartphone marketing is the next big promotional trend and are investing in strategies that leverage the mobile computing power of today's consumers. Equipped with GPS components, today's smartphones give consumers the ability to perform navigation and other geolocational tasks. If you are an athletic courts business marketer, geolocational features can be a powerful weapon in your marketing arsenal. Talk to a professional marketing firm about how you can tap into geolocational resources as a way to draw mobile consumers to your products. There are many ways to influence consumers through mobile GPS. However, in its simplest form, geolocational marketing enables consumers to identify an athletic courts business when they are in the vicinity.
Generating Buzz
Never underestimate the value of good buzz with consumers. You've heard it said before: Word of mouth is the best form of promotion for products and brands. In an athletic courts business, meaningful brand conversations have the ability to transform the impact of your marketing efforts. The process begins with developing communication vehicles and mechanisms that invite discussion. Social networking and other online strategies can play a foundational role when they are performed in tandem with face-to-face interactions and industry networking.
Cost Tracking
Are you struggling to contain costs? That's familiar theme among entrepreneurs who lead an athletic courts business. You can't afford to waste money on inferior marketing resources. Since every dollar counts, it pays to buy mailing lists from trusted vendors. Good mailing lists are money in the bank; they deliver leads, revenue and most importantly, new customers.
In addition to purchasing first-rate mailing lists, we advise our business partners to carefully track the costs and returns for each of their marketing channels. If a specific marketing channel fails to meet your expectations, consult with a professional marketing firm about how to make the channel more productive or eliminate it from your marketing mix.
More Articles on Marketing
Based on your interests, we think you may find these additional resources to be of interest.
Selling an Athletic Courts Business
---
Conversation Board
The art of marketing athletic courts businesses is vast. Send us your tips, advice, comments and questions, and let's continue the conversation!
Ready to Start Your Own Athletic Courts Business?
For tips on how to start an athletic courts business, these resources provide helpful advice:
How to Start an Athletic Courts Business


Do You Offer Products or Services to Athletic Courts Businesses?
If you consider athletic courts businesses to be sales prospects, there's more useful information for you elsewhere on our site. Try these instead:
Selling to Athletic Courts Businesses
Mailing Lists for Athletic Courts Businesses


More Marketing Guides
If you are looking for marketing advice for a different kind of business, please browse our directory of marketing guides below.
Browse more marketing resource guides: