Franchise Opportunities
7-Eleven, Inc.
How do I start a convenience store? One way is simply to buy a franchise like this one. Check it out!
Franchise Profile — 7-Eleven, Inc.
7-Eleven's focus is on meeting the needs of convenience-oriented customers by providing a reliable, fresh assortment of high-quality products.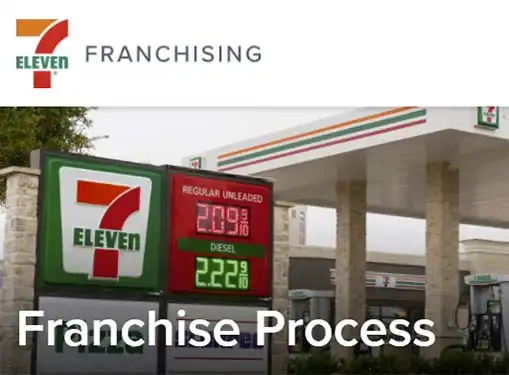 7-Eleven, Inc.'s franchise system is among the most field-intensive in the franchising industry. Management personnel visit with franchisees -- at least once every week for a several-hour appointment -- and counsel with them on all aspects of their business. The company provides experienced assistance and advice, but store business decisions are made by the franchisee.
7-Eleven, Inc. owns or leases the land on which the 7-Eleven store sits. The company develops the building, provides the store equipment and pays the utilities. A 7-Eleven franchisee does not own the property, store or equipment, but rather, leases or subleases it from 7-Eleven, Inc. as part of the franchise agreement.
As the franchisor, 7-Eleven, Inc. provides comprehensive, initial training to franchisees on how to operate and manage their stores. This training is working in a 7-Eleven store environment for six (6) weeks.
Learn More About 7-Eleven, Inc.
For more information on this franchise opportunity, visit:
More Franchise Opportunities
Browse more franchise opportunities in the Gaebler Ventures franchise directory:
Our Directory of Franchise Opportunities now includes over 2,000 franchise opportunities. If we're missing a franchise, please let us know.
Share this article
---
Disclaimer
This franchise information is neither a recommendation nor an endorsement of any franchise or business opportunity. The information is intended only to introduce our site visitors to partnering with a third-party group as a potential option for starting a new business. Franchise opportunities featured on our site may contain errors, and the information may be out of date. In addition, some franchise opportunities on our site may more properly be classified as business opportunities. You should always do your own independent and extensive research before investing in a franchise, as buying a franchise is inherently risky. Do the necessary due diligence, thoroughly review the legal documents, check references and engage qualified advisors before you invest.
---
Additional Resources for Entrepreneurs