Franchise Opportunities
AmericInn
When only the best will do . . . Here's your opportunity to profit from the demand for high-quality lodging by owning an upscale limited service lodging franchise with AmericInn.
Franchise Profile — AmericInn
The AmericInn Lodging System is one of the fastest growing upscale limited service lodging chains.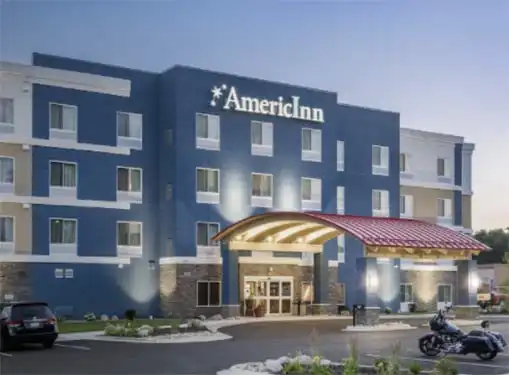 Whether they are staying for business or pleasure, AmericInn provides its guests with the very best - the best quality, the best service and definitely the best nights sleep with Quiet Nights, Rest Assured.
Much of AmericInn's success is due to its unique product and market niche across the upscale/luxury-economy and mid-market segments, offering potential franchisees the opportunity to take advantage of the company's established reputation as a provider of quality lodging.
AmericInn provides franchisees with site location assistance, management training, on-site opening assistance, and national advertising.
As of June, 2009, the costs for an AmericInn franchise are:
> Initial Franchise Fee: $35,000
> Start-Up Cost: $900,000 - $1,500,000
> Total Investment: $5,000,000 - $10,000,000
AmericInn International, LLC, 250 Lake Drive East, Chanhassen, Minnesota 55317; MNReg No.F-1492. This advertisement is not an offering. An offering can only be made by a prospectus first filed with the Department of Law of the State of New York. Such filing does not constitute approval by the Department of Law. These franchises have been registered under the franchise investment law of the state of California. Such registration does not constitute approval, recommendation or endorsement by the commissioner of corporations nor a finding by the commissioner that the information provided herein is true, complete and not misleading.
Learn More About AmericInn
For more information on this franchise opportunity, visit:
More Franchise Opportunities
Browse more franchise opportunities in the Gaebler Ventures franchise directory:
Our Directory of Franchise Opportunities now includes over 2,000 franchise opportunities. If we're missing a franchise, please let us know.
Share this article
---
Disclaimer
This franchise information is neither a recommendation nor an endorsement of any franchise or business opportunity. The information is intended only to introduce our site visitors to partnering with a third-party group as a potential option for starting a new business. Franchise opportunities featured on our site may contain errors, and the information may be out of date. In addition, some franchise opportunities on our site may more properly be classified as business opportunities. You should always do your own independent and extensive research before investing in a franchise, as buying a franchise is inherently risky. Do the necessary due diligence, thoroughly review the legal documents, check references and engage qualified advisors before you invest.
---
Additional Resources for Entrepreneurs