Franchise Opportunities
Andy's Frozen Custard Franchising, L.L.C.
If you're a little different than your average bear, this franchise of desserts that's a little different than your average ice-cream could be just the franchise for you.
Franchise Profile — Andy's Frozen Custard Franchising, L.L.C.
Andy's Frozen Custard serves a dessert thicker than ice-cream, silkier than frozen yogurt, and more flavorful than either of them. Andy's also offers traditional desserts (banana split), old-fashioned fare such as malts, plus a smorgasbord of candy and treats to sprinkle on top of your frozen custard.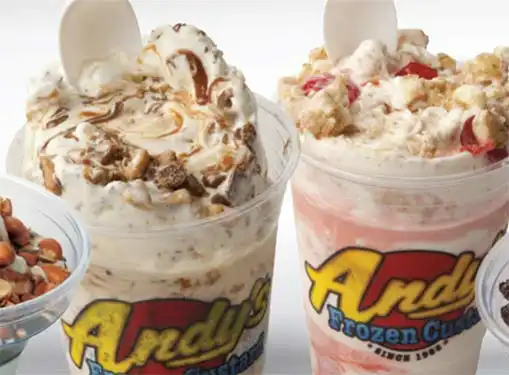 The initial franchise fee is $32,000, and prior restaurant or franchise experience is not required. There are weekly royalties equal to 6% (5% after $1 million in sales), 1% of gross revenue toward a corporate-wide Advertising and Development Fund, and franchises are expected to pony up another 3% of revenue on their own local marketing efforts.
New franchisees get eight weeks of training. The term of an initial franchise agreement with Andy's Frozen Custard is ten years, with two subsequent successor options of five years each.
Learn More About Andy's Frozen Custard Franchising, L.L.C.
For more information on this franchise opportunity, visit:
Andy's Frozen Custard Franchising, L.L.C.
More Franchise Opportunities
Browse more franchise opportunities in the Gaebler Ventures franchise directory:
Our Directory of Franchise Opportunities now includes over 2,000 franchise opportunities. If we're missing a franchise, please let us know.
Share this article
---
Disclaimer
This franchise information is neither a recommendation nor an endorsement of any franchise or business opportunity. The information is intended only to introduce our site visitors to partnering with a third-party group as a potential option for starting a new business. Franchise opportunities featured on our site may contain errors, and the information may be out of date. In addition, some franchise opportunities on our site may more properly be classified as business opportunities. You should always do your own independent and extensive research before investing in a franchise, as buying a franchise is inherently risky. Do the necessary due diligence, thoroughly review the legal documents, check references and engage qualified advisors before you invest.
---
Additional Resources for Entrepreneurs