Costs To Start a Business
Avoiding Debt in Business as an Entrepreneur
Written by Kathryn Lang for Gaebler Ventures
Avoiding debt in a business allows the entrepreneur to drive the direction of the business. A few simple steps will make the journey to a debt free venture just a little easier to make.
Avoiding debt should be the aim of all steps in life.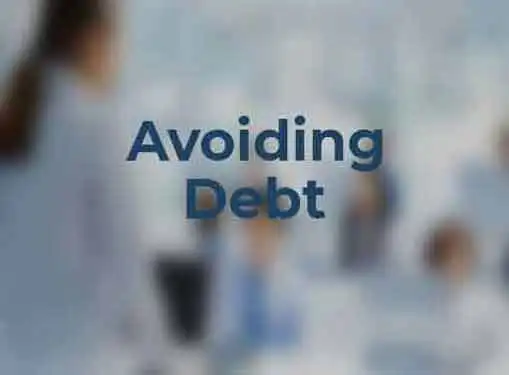 It can mean the difference between life and death of a business for an entrepreneur, particularly during these tough economic times. Keeping debt out of a business comes from following the basic principles for any sound financial endeavor – never spend more than you take in.
Making that one idea the mantra will begin the process of keeping a business debt free. Taking a few additional steps should be enough to insure that your business as an entrepreneur stays in the black. The more insulation an entrepreneur has to the economic twists and turns then the easier it will be to push on to business success. A debt free business has an easier time changing and adjusting.
Simple Tips for a Debt Free Business
Start with a solid business plan. Understanding the industry for your entrepreneurial choices and also having a plan for venturing into that market can be one of the most important steps for keeping a business debt free.
Create a workable budget. A budget should be part of any business plan, but once the business becomes active it may be necessary to adjust the budget (sometimes as often as every couple of months). Be flexible but determined. Always look at the bottom line for purchases or investments and be sure that you can afford to make a purchase before releasing the money.
Be consistent and patient with purchases. The "buy now" mentality has done the most to drive people into financial woes. Look at how much you would have to make in payments and begin to put that money aside in savings instead. A purchase made a little later, and made with cash, will end up saving you a lot in the long run.
Look for a mentor. An entrepreneur that has the advice and support of someone experience in the field or industry (or as an entrepreneur) will be more likely to make sound financial decisions that will keep the business out of debt.
Understand the difference between debt and credit. Credit revolves around the use of the money of another person or business. You have the money in the bank. Credit cards began as a product that reflects this use. Debt is the use of money you do not have. Making the choice to charge a purchase because you do not have the funds to make that purchase becomes the foundation for growing debt.
Starting a new business as an entrepreneur can be intimidating enough without piling on a lot of debt. A business founded on the principle of "never spend more than you make" already has the jump on becoming a success. Adding a few additional steps to the plan will help the entrepreneur insure that any business endeavor will remain in the black.
Kathryn Lang is a professionial writer and motivational speaker. She enjoys writing about a wide variety of business topics including youth businesses and finance.
Share this article
---
Additional Resources for Entrepreneurs