Negotiating Advice
BATNA Negotiation
Written by Richard San Juan for Gaebler Ventures
As an entrepreneur or a small business owner, you will be faced on numerous occasions of having to negotiate various deals and agreements. Negotiation skills are a must and knowing the concept of Best Alternative To a Negotiated Agreement (BATNA). It will help you in walking away from accepting bad deals.
When conducting negotiations with another party, companies must guard against conceding away too much or receiving insufficient return.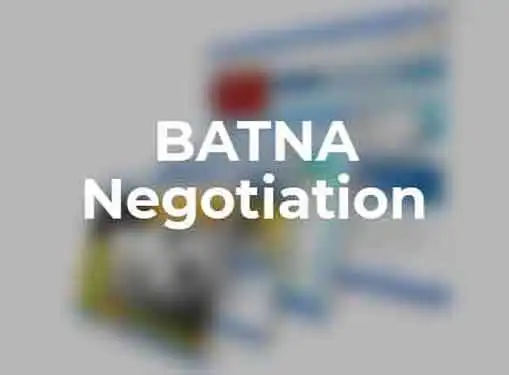 There is usually a minimum amount of value that companies take into the negotiations beforehand. This is called the "bottom line."
The "bottom line" represents the worst potential outcome that one side of the negotiations might accept. In other words, the "bottom line" is sort of like the final barrier where a particular negotiation breaks down and fails to proceed further. It is a way for the representative negotiating on the company's behalf to protect the company and the company's interests against the pressure and appeal that is often exerted on a negotiator to conclude an agreement that could be self-defeating.
Although bottom lines do indeed serve a purpose, they also enable inflexibility, strangle innovation, and lessen the incentive to seek alternative or outside-the-box solutions that may resolve long-standing differences.
Enter BATNA. In stark contrast to the "bottom line" negotiation, a BATNA is not really interested in the specific objectives of a negotiation, but instead a BATNA negotiation seeks to determine the course of action if a fully agreed upon deal is not reached within a certain time period.
Serving a set standard against which a possible agreement is measured, BATNA prevents a negotiator from accepting an agreement that is too unfavorable or not in the best interests for his company, because it provides a better option outside the actual negotiation.
With BATNA existing as an alternative to a negotiated agreement, it allows far greater flexibility and encourages innovative solutions to finalize an agreement.
When a negotiator has a strong BATNA, they also have more leverage, because they can pursue another high-value alternative if an acceptable agreement cannot be reached in the negotiations.
A good example of this is when buying a car. If you are looking to buy a new car and that particular car model is for sale at multiple car dealers, you have a strong BATNA because you have many options to purchase from. The car dealers will then be competing with each other to get you to purchase from them.
How do we know our BATNA? Sometimes, BATNAs are not clear-cut and obvious.
Identifying your BATNA requires going through a three-step process.
The first step involves developing a list of possible actions that you or the negotiator may take if there is a failure in agreement. Improving the more promising of the alternative ideas and tweaking them a bit to get more of a realistic option to the agreement is the second step. Finally, after carefully reviewing the consequences of each alternative option, the negotiator, or anyone with the appropriate authority, should select the best option.
Richard San Juan is currently pursuing an MBA degree with an emphasis in Finance from DePaul University in Chicago. He is particularly interested in writing about business news and strategies.
Share this article
---
Additional Resources for Entrepreneurs