Servers
Blade Servers
You've been advised by the IT department to buy a blade server as a way to maximize space and improve server efficiency. That sounds great, but first things first . . . What the heck is a blade server?
Don't panic when your IT guys tells you he needs a blade.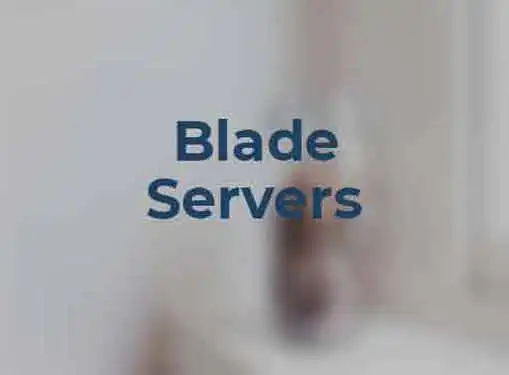 He's not looking or a weapon -- he's looking for a way to improve the performance and efficiency of your company's business server. Blade technology is slowly but surely making its way into small business computing environments, often with dramatic results.
Although most IT professionals are very familiar with blade servers, most business owners are not. When everything is said and done, blade servers might not be right for your business. But if maintaining a reliable and highly functional server is important to you, it's worth your time to investigate blade server technology and the ways it is commonly employed in business workplaces.
What Are Blade Servers?
A business server is really just a computer that serves as a central hub for data and business applications. But like any other computer, computer servers contain components that aren't essential for full functionality. Blade servers are stripped down servers that remove extraneous components to save space and reduce energy usage. Individual blades appear similar to a computer board. They sit in a blade enclosure (or rack) that is designed to hold multiple blade servers and perform vital tasks like cooling, connecting and managing the blade server network. However, it's important to remember that although multiple blades reside in the blade enclosure, each blade exists and functions as a self-contained server.
Blade Server Tips
Functions. Blade servers work best when they are used to perform specific server functions. Web hosting, virtualization and cluster computing tasks are some of the common applications for blade server technology.
Management. Blade servers require management technology to be effective. Based on the technology that is currently on the market, it's best to utilize blades, racks and management tools that come from the same vendor to ensure smooth integration and management capability.
"Hot-swapping". Blade servers are known for their ability to be "hot swapped". That means you can add or remove blades from the enclosure without shutting down the entire system -- a useful feature for IT management and service tasks.
Looking ahead. Going forward, look for the development of independent blade server management systems that allow users to effectively integrate blades, racks and management tools from multiple manufacturers. The benefit of independent management tools is that it creates the possibility of lower costs and enhanced performance by leveraging the strengths of multiple vendors.
Share this article
---
Additional Resources for Entrepreneurs