Costs To Start a Business
Budgeting for Your New Website
Written by Chris Martin for Gaebler Ventures
Almost every successful business needs a strong web presence. So it's important that your company website be functional and attractive to web surfers. But what will it cost you to get such a website?
You've come up with an idea and a way to make it profitable. You've created your business plan and scraped together enough funds to launch your enterprise. You're just about ready to take the marketplace by storm.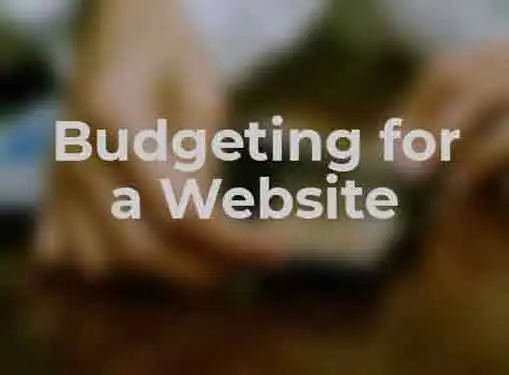 But first, you need a website.
How much money do you need to accomplish this task? Here are the expenses you need to consider when budgeting for your website.
Domain registration. You've got to pick out a catchy or relevant domain name (or several) and claim it as your own. This will set you back between $10 and $35 per year.
Hosting services. This cost can vary widely depending on how complex your website is, how much traffic it will receive, and how much security it will require. If you go with a shared host, the monthly cost should stay between $8 and $50 monthly. If you need a merchant plan to conduct e-commerce, expect to raise that figure to between $25 and $250. But if you will have to spring for a dedicated server, you'll probably pay between $125 and $1,000 or more.
Graphics. Chances are, you don't already have ready-made graphics or a hard copy of a company logo. If you want to minimize this cost, search through a vast online library of royalty-free images, the rights to which can be purchased for as little as $10 per image. But if you need customized graphics and logos, a graphic artist will cost you between $50 and $150 per hour to create them.
Content. This is an area which you can trim expenses if you develop and write the content by yourself. But if copywriting is not your specialty, you can hire copywriting services to do it for between $50 and $85 per hour.
Content management system. You may choose to configure and implement a CMS to allow your site to be updated and managed more easily. Getting this all together will cost between $50 and $85 per hour.
Programming your site. Again, if you can write code in your sleep, you can slice your budget in this area if you're willing to take the time to program the site yourself. But if you won't be able to create e-commerce systems, CRM tools, or the custom components necessary for your site, hiring a programmer will run you between $85 and $125 an hour.
Third-party application fees. This cost can vary widely depending on how many third-party applications or other copyrighted material you plan to adapt from cyberspace into your site. If you opt for a fully customized site, this figure will be close to zero. Or you could also pay anything from $5 to $100 per application.
Testing. You don't want to launch your business with a dysfunctional and error-prone site. So someone will have to test it for you to make sure it's ready for your customers. Allocate an hourly rate of between $35 and $50, and assume each site page will take at least a half hour to test.
Analytics. You'll want to track the traits of your site viewers. This can be done using Google Analytics, which can be integrated into your site for between $50 and $85 an hour. More complex analytics tools may cost anywhere from $50 to $5,000 to create for your site.
Blog. This is another one of those "optional" costs. If you want to write the blog yourself, you won't have to pay anything more than the $500 to $2500 initial setup fee for programming, configuration, and graphic design.
If you can find ways to minimize your site costs, you should consider implementing them. But don't sacrifice quality just to save a few bucks, or it may cost you dearly in the long run.
Chris Martin has been a professional writer for the last seven years. He is interested in franchises and equity acquisition.
Share this article
---
Additional Resources for Entrepreneurs