Advertising on Buses
Bus Advertising
Advertising on buses is a great way to get your message out to the market. This primer on bus advertising is all you need to read before you call your local transit agency to find out how much bus advertising costs in your area and how you get started.
Advertising on buses (or on taxis, subways, and trains for that matter) is one way to get your message out to a broad audience repeatedly and on a consistent basis.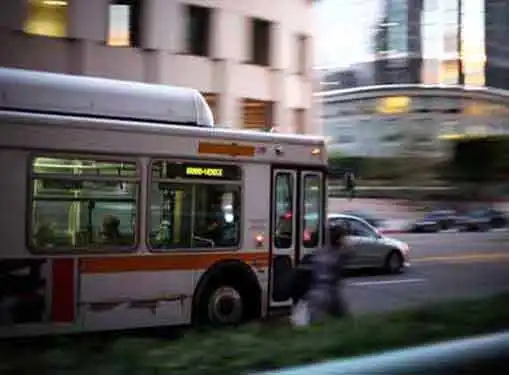 Unlike other kinds of advertising, like TV or direct mail, people cannot just switch the channel or throw it out. The ad is simply in front of them as a part of the environment!
From this standpoint, advertising has the advantage of being able to successfully hit a large number of people without being too costly. When used in conjunction with other media outlets, advertising on buses is an effective way to strengthen your marketing campaign.
Here are some ways to increase the success of your marketing campaign by advertising on buses, and a few pointers to avoid the pitfalls as well.
Be brief. You must remember that most of the time either the bus or the audience will be in motion. That means that you only have a couple of seconds to make your point. Keep your slogan as short as possible.
Be bold. The shortage of words in a bus advertisement means that your pictures or logo really need to be memorable. Keep it simple, but don't be afraid to use bold and bright colors.
Be sensible. Because your ad will be seen by people of all ages and all walks of life, you need to makes sure that the ad is rated "G" - appropriate for all audiences! If your ad offends anyone, you will find that being the "talk of the town" is not always good news for your business!
Be committed. With bus advertising you're literally in it for the long haul. Remember that advertising on buses is not like a radio ad that can be pulled whenever you feel like it. Most bus companies require a commitment can that last up to 3 months. Therefore, this kind of advertising is not recommended for your week-long sales event. To make it worth it, the campaign needs to be much bigger than that.
Be smart. Before you sign that contract, determine who your target audience truly is. It is possible that certain bus routes are better suited to your campaign than others because of the types of neighborhoods that they drive through. If you are already doing a direct mail campaign, make sure that the bus routes drive through those same zip codes!
While advertising on buses must be short and to the point, its success is based on repetition. When people see the same ad day after day on more than one bus and in more than one media venue, eventually the message will stick with them!
It is a non-intrusive way to get your message out to the community that might spruce up the sides of some boring city buses in the process!
Share this article
---
Additional Resources for Entrepreneurs