How Much Do Bus Bench Ads Cost?
Bus Bench Advertising Costs
How much do bus bench ads cost and is bench advertising a good marketing investment? We cover that and more in this article on bus bench advertisements. It turns out that advertising on bus benches may be one of the best marketing investments you'll ever make.
Bus bench ads -- you see them everyday as you drive around town. Do the businesses who advertise on those benches know something that you don't know? Perhaps.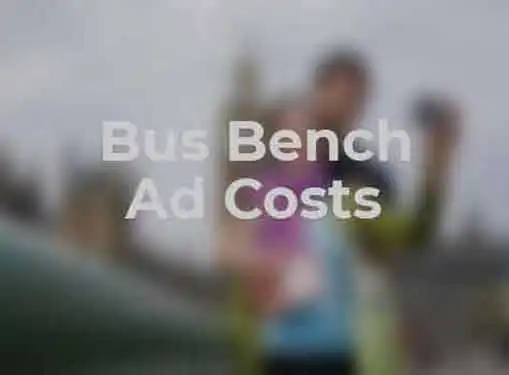 Without a doubt, bus bench ads can be an effective advertising vehicle for your business. After reading this article, you'll understand why bench ads are one of the best advertising buys around.
How Much Do Bench Ads Cost?
Bench ad companies incentivize you to put your ads on as many benches as possible for as long as possible. Accordingly, pricing per bench ad will vary based on the total package -- how many benches you advertise on and for how long. The other big determinant is location, location, location. A bench ad in New York City, New York (population 8+ million) costs much more than a bench ad in Coldwater, Kansas (population 792).
Typically, there's a minimum number of benches that you have to agree to advertise on. Five or ten benches is a common minimum. It's common to have to sign an advertising contract for six months, but you'll get discounts if you agree to run your bench advertisements for a full year.
As for pricing, a California company we know sells bench advertising for $115 per Bench/Month. In Winona, Minnesota you can buy bench advertising for $40 per Bench/Month. Higher end ads, say, bus shelter advertising, might run you $500 per month.
If you are wondering how much to budget for bench ads, you'll probably want to check for specific prices in your area.
Don't have time to call around? The national average for bus and bench advertising is $250 per placement, so that's a number you can use for bench advertising budgets.
Bench Ads Versus Other Alternatives
A print ad in a prominent national publication might run you $25 per impression. Compared to that, bench ads are a huge bargain.
It's not uncommon for bench ads in a big city to have 25,000 vehicles pass by daily. That's over 9,000,000 impressions per year. If you pay $250 per month for that bench, you're paying $3,000 per year for 9,000,000 impressions. That works out to just over three one-hundredths of a penny per impression.
Now, that's advertising value for money!
More importantly, there's plenty of capacity out there for your ads. Consider the number of cities in the United States and the number of bus benches in the United States. According to Census data, there are over 40,000 cities in the United States. Based on our estimates, the average city has 2,000 bus benches. That means there are 80 million benches in the United States. About 40% of bus benches offer advertising, so that drops the available ad space down to 32 million benches.
At $250 per month per bench, that means you can spend $8 billion and have your ad on every available bus bench in the United States! Now you have some good trivia for the next cocktail party you attend.
Benefits of Bench Ads
Bench Ads Are Always On. They work for you 24 Hours a day, 7 days a week.
Bench Advertising Offers Great Visibility. Drivers, pedestrians and bus riders all will see your ads.
Bench Ads Provide Multiple Impressions Per Prospective Customer. People passing by on a regular basis are bound to notice your ad.
Bench Ads Give Precise Geographic Targeting. If you do business locally and want to target local consumers, there's no better advertising vehicle. If you want to target a specific ethnic group, you can find bus benches in Hispanic, Asian and African-American communities.
Bench Ad Backlash
Be aware that there are some folks who would love to get rid of all bench ads. They believe bench ads are an intrusive eyesore, and that commercialization of public property is not the best use of a public investment. What's next they ask? Advertising on the back of police cars? Hanging a banner behind the mayor at the city commission meeting?
There are even some who say that billboard bus stops are distracting to traffic and may cause accidents or be used by evildoers as a hiding place prior to an assault.
Whether you agree or disagree, it's important to know that while bench advertising will bring in quite a few new customers, you may be alienating a few folks in the process.
Share this article
---
Additional Resources for Entrepreneurs