Entrepreneurship for Scientists
Chicago Innovation Awards
The Chicago Innovation Awards honor innovative products and services, developed in the Chicago area.
Here are the finalists for the 2007 Chicago Innovation Awards. Ten of these innovative Chicago companies will be selected as winners of an Innovation Award.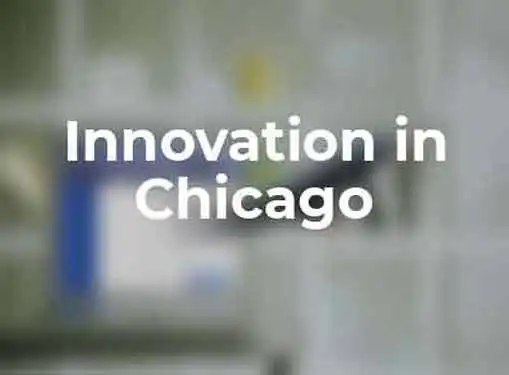 Note that Akoya, Ambiron Trust Wave, BuySide Realty, CareMatix, DriFIRE, ECIN, Fulton Innovation, Iggys House, Lanworth, Oasis Legal Finance and SurePayroll are all clients of Walker Sands, a Gaebler Ventures portfolio company that specializes in assisting innovative companies to grow their businesses and their visibility in their target markets.
We think serving 11 of the 250 most innovative companies in Chicago certainly qualifies Walker Sands as an innovative and talented marketing and PR firm.
But enough about us...here's the list of Chicago's most innovative companies in 2007:
Abbott Laboratories - Direct Relief International and the Afghan Institute of Learning -Afghanistan Maternal and Child Health Initiative.
Abbott Laboratories - AlphaTRAK - Complete hand-held blood glucose monitoring system designed specifically for diabetic cats and dogs, standardized drug-label templates developed by eye-movement-tracking technology.
Abbott Laboratories - GreenFleet Initiative, - to help companies identify the most cost-effective ways to use eco-friendly cars for their company cars.
Abbott Laboratories - Real-time HIV-1 viral load test - Detect all known variants or mutations of the HIV-1 virus.
Abbott Laboratories - XIENCE V - Everolimus Eluting Coronary Stent for the treatment of vascular disease.
ABC 7 Chicago - Entire lineup of local news and programming in high-definition TV.
ACCO Brands - GBC RetrieveIt HeatSeal lamination pouches.
ACCO Brands - ACCO 100 percent post-consumer recycled regular and jumbo paper clips.
ActiveCare Network - Administration of chronic biologic medications.
AdGooroo - Software benchmarking for search engine marketing performance.
Advanced Diamond Technologies - Process to rearrange carbon atoms to form a smooth diamond film.
Advanced Pain Center - Treatment for hot flashes and reduction of breast cancer recurrence.
Akoya Product Lifecycle Analytics - Cost-management workbench software.
Aleri Inc. - Streaming platform for high throughput of data with minimal latency.
Alfred H. Boots - Universal connector system for structures.
Algoryx Inc. - Correlation Master PC-based software package for reducing costs.
All Wood Closets and Storage Systems - environmentally friendly closet organizers.
All Wood Closets - Environmentally safe shoe storage box with window.
Allscripts - eRx NOWT - Web-based electronic prescribing software free to health care providers.
Allstate Foundation - Money management curriculum to address financial needs of domestic violence victims.
Alter Group - Corridors 4 Concept Building - Designed by Helmut Jahn to create a socially conscious, team-building environment.
Alter Group - Enterprise Solutions - Commercial real estate development program that allows small and medium-sized businesses to own their own place of business at less than the cost of leasing, and enjoy the income tax, estate planning and operational benefits.
Alter Group - Enterprise Solutions - One 11 West Illinois Street building, Class-A-to-own commercial building.
Ambiron Trust Wave Co. - TrustKeeper - Providing vulnerability assessment and compliance management, primarily to ensure the security of card-processing transactions.
American Diabetes Association - Check Up America- Risk screen to help people recognize and lower their risk for type 2 diabetes, heart disease and stroke.
American ePay - Tracks scattered labor force, manages and pays employees.
Andrew Corp. - Invex 3G - Autonomous solution for testing the quality of wireless telephone networks via remote, automatic device.
Angel Sales Inc. - BraBABY - Device that protects expensive padded bras in the washing machine and dryer.
Aon Affinity Insurance Services - Specialized insurance coverage and risk management products for finance, legal and other professionals dealing with emerging technology and pharmaceutical companies.
Aristotle Ventures Inc. - a.K.a. - Card to create a separate identity linked to user's credit-card account.
Arial Foundation - Manufactured housing for low-income families.
Arroweye Solutions - Cardway.com online greeting-card suite.
Astellas Pharma US Inc. - Organ transplant patient support program.
AutoMARK Technical Systems - Voter-assist terminal for handicapped voters.
Ballast Axis Technologies Inc. - System that enables each individual lighting fixture to become more energy efficient.
Bag & Brew - Coffee house that holds nightly handbag-exchange sessions with its patrons.
Beyond Broadcast Inc. - Integration of video content with online information and services.
Big Machines Inc. - Flexible software to easily build a Web-based selling engine.
Blueye Co. - Software application to track users' travels.
BrightStar Healthcare - National full-service health care staffing agency.
BRINGO - NoPhoneTrees.com - Navigates the phone tree of a user's choice, and contacts user when a real person is online.
BuySide Realty - Expert representation from certified, noncommissioned real estate agents for home buyers.
Buzz Labs Inc. - Buzz.com - Web site that distills millions of daily blog postings into entertaining and relevant animated presentations.
CareMatix Inc. - wireless monitoring system to track health vitals.
CARRAND Cos. - Smart Nozzle Oudoor Cleaning Tools for a garden hose that allows the user to clip on and off a variety of cleaning tools for different outdoor surfaces.
City of Chicago - Department of Buildings - Green Permit Incentive Program encouraging construction of environmentally friendly buildings.
City of Chicago - Department of Transportation - Green Alley Program using recycled materials to create permeable asphalt and concrete surfaces, and high-energy reflection surface.
Chicago Non-Profit - Searchable Web site database of charitable organizations in Chicago to connect potential donors to non-profits.
Chicago Crime.org - Free Web site overlaying Chicago's reported crimes with Google's online mapping.
Chromatin Inc. - Mini-chromosome technologies to develop new seed products and deliver multiple genetic traits.
City Walk Ventures - Producer of a public/private exhibition.
Clarity Group - Healthcare SafetyZone - Portal to reduce medical errors.
Claymore Securities - Ocean Tomo 300 Index - Tracks publicly held companies selected by the value of their patents.
Cobra Electronics - XRS R9G radar detector - Alerts drivers of speed and red light camera locations through the use of an exclusive, proprietary database.
Code Red Inc. - Public access defibrillation program for automated external defibrillation units.
College of DuPage - DuPage Area Healthcare Leadership Council - Partnership comprised of health care agencies, associations, colleges, universities and government agencies.
Community Media Workshop - Integrated communications coaching for community organizations.
Cool Globes - Hot Ideas for Cooler Planet - Public art exhibit along the Chicago lakefront that provides simple solutions to climate change.
DDK Innovations Inc. - Extension rod that can be used to install threaded rod fasteners into concrete ceilings and wire electric circuits.
De La Salle Institute - Tablet PC Program - Provides every member of the freshman class with his own tablet PC with pre-loaded software and textbooks.
DePaul University - Multicultural marketing program.
Designwerks - Piggy-teez T-shirt design by Peter Sausen.
Dickholtz Laser Light - Spinal analyzers placed on the shoulders and the hips to reveal spinal deviations.
DriFIRE - Fire-retardant garments.
ECIN - Discharge planning and utilization management patient processing software for hospitals.
EggFusion - On-egg engraving of data about freshness, traceability and branding.
El: Environmental Language - el: kitchen cabinetry - Made from sustainably harvested wood, reclaimed rift, cut oak, beech and bamboo.
Eli's Cheesecake Co. - Couture line of gourmet, packaged cheesecake.
Elkay Manufacturing Co. - Avado sink with middle integrated work surface.
Elkay Manufacturing Co. - Mystic Shelf Sink with removable storage tray.
Energy Absorbtion Systems - Safe-stop trailer truck-mounted attenuator to lessen the damage from vehicle collisions.
Energy USA - Energy mirror to convert matter into energy.
Engineered Efficiency Inc. - Civil engineering software tool that can create a 3D dynamic model of any project.
Engineered Glass Products - Heated-glass towel warmer.
Environmental Law and Policy Center - Green Restaurants Program.
Etymotic Research Inc. - Wireless microphone multitalker noise-reduction system.
Experiencia - Earthworks program leads students through experiments with cutting-edge equipment and technologies, interacting with 60 species of live animals, and sustaining four simulated ecosystems. Exchange City puts students in charge of all aspects of their own simulated business community in a small-scale, simulated environment.
Fellowes Inc. and EMD Technologies - Powershred DS1 personal shredder that automatically disables the shredder when sensing hands or pets are too close to the "throat" or paper entry.
Firefly Energy - Carbon-graphite battery.
First Impression - Portfolio of services for events/outings.
FIRST Robotics - International robotics competition that partners technology professionals with high school students to build robots to compete in events.
First Light - A more functional version of the standard flashlight.
Fmnetinc.com - Internet database of Chicago-based businesses.
Foresight Design - Chicago Sustainable Business Alliance supports members in integrating sustainable business principles to generate a more profitable, environmentally respectful, socially responsible Chicago economy.
Fulton Innovation - eCoupled - Transmits electric power wirelessly.
G2 SwitchWorks - Web-based desktop, built around travel agent workflow.
GAFlightStatus.com - Flight status system for smaller aircraft.
General Intel Technology - Quick Pace online remittance service.
GoPicnic Inc. - Food service option to a variety of industries, including airlines, hotels and elementary/high school fund-raising.
Growing Home - Provides job-readiness training for low-income/hard-to-place individuals through an employment program in the organic farming business.
GutterMonster - All season, gutter protection system with a screw-less support system.
HallStar Co. - Polycrylene sunscreen additive.
Handi-Ramp - Handi-Treads non-skid stair tread strips; home-access database of Realtors who can assist in the search for a handicap-accessible home or consultants who can modify a current home.
Harris Medical Resources - Sublingual Photoluminescent Therapy Machine - Ultraviolet light therapy machine to treat viral and bacterial infections.
HealthString - Personal Health Record subscription gathers relevant medical records from physicians and hospitals.
HomeStart Mortgage Corp. - interactive financial credit education program for young adults.
Horizon Business Group - Series of coatings for any type of metal that creates a surface that can be easily cleaned.
Humanized Inc. - Enso software program with built in commonly used functions.
I Assist Lawyers - Providing attorneys in real estate with out-of-office, pay-by-case, paralegals.
IBM - Manpower section of Second Life Headquarters, an Internet-based virtual world where job seekers, employers and entrepreneurs can meet.
Idea Stream Inc. - Beehive hangers that allow the position of a picture to be adjusted in any direction in less than five seconds.
IG2 Data Security Inc. - Off-site data storage, software escrow and litigation escrow services.
Iggys House Inc. - Free listing service for real estate sellers.
Ignition Entertainment Group - A competition for music performers.
I-GO Car Sharing - Shared-car service.
Illinois Department of Central Management Services - Web site that serves as a market for surplus property; online Consumer Reports-style knowledge management system for government procurement.
IHAVEAGUY.com - Web site that can custom track users' individual referrals.
INCISENT Technologies - First Look Search Engine for the B2B market with predictive search.
Inkling Inc. - Inkling Markets, captures the collective intelligence of a diverse group of people and provides insight into what might happen in the future.
In-Pipe Technology Co. - In-situ repairs for treating wastewater.
Intercon Solutions/Intercon Recycling - Provides efficient, environmentally responsible electronics recycling.
Internet Engine - Provides real estate brokers a suite of Web-based products to help them connect with prospective buyers and sellers of homes in their market area.
Intrinsic Technologies - Automates, standardizes and secures user's Microsoft infrastructure.
InXpo - Virtual trade shows online.
IPC - Association Connecting Electronics Industries certification program for disposal of electronic devices.
IPOX Schuster - Global indexes of initial public offerings and spin-offs.
Jet Sert Co. - SipAHH Straws with flavor beads inside, adding flavor to milk.
Jewish United Fund/Jewish Federation of Metropolitan Chicago - Jewish Day School front-loaded Guaranty Trust Fund to make Jewish day schools more affordable for families.
John Galt Solutions - ForecastX Wizard software for business forecasting; POS application based on consumer sales data to forecast consumer demand; Walk, Drive, Fly methodology for supply chain planning.
Kids Sports Fitness & Education - Challenge Them, interactive instructional basketball work book.
Kraft Foods - California Pizza Kitchen, crispy thin crust frozen pizza.
Lanworth - Crop mapping through satellite or aerial remote sensing.
Laughlin Entertainment Inc. - Cubs rooftop booking service.
Layer Saver - Two-tiered transport pallet.
Learning Enhancement - Brainware Safari software program that develops cognitive skills.
Lemko Corp. - Cellular system that can be deployed quickly and easily in a disaster zone; ultra-low-cost cellular solution for rural areas.
Leo Software Inc. - Application for commercial real estate professionals.
LexisNexis - LexisNexis atVantage - Law-firm business development tool.
Light Focus Productions - Videos for business and education.
LiquidTalk Inc. - On-demand application to find, organize, create, and distribute proprietary audio and video business content to mobile devices.
Management Simulations Inc. - Capstone Competency Exam - Uses a business simulation to assess business judgment and analytical skills.
Manufacturers Brass and Aluminum Foundry International - MBAF174 - Lead-free white manganese bronze alloy to produce metal castings for food processing machinery.
Marc J. Lane Investment Management - Investor-driven, ethics-oriented investment portfolio.
Master Lock Co. - Compact Key Safe, an over-the-doorknob (outdoor) mounting security box with combination lock; G.l.o. combination lock with LED light-up dial; Lock & Leash braided zinc-plated steel cable; TSA-accepted cable padlock to enable TSA airport screeners to open, inspect, and relock bag.
MAXtant - Golf Bookie - Off-line software to tabulate and track wagers off the course.
McCook Athletic & Exposition Center - Multipurpose 125,000-square-foot field housed under a clear-span 40-foot roof.
Melnick Conglomerate - Tactical Daddy - Vest that replaces a traditional diaper bag targeted toward dads.
Meridix Creative Inc. - the Meridix Broadcast Network - Webcast and real time data system for smaller athletic events.
Middleby Corp. - Mini Wow! - Fast-toasting commercial conveyor oven.
Mike Houlihan Creative - Tapioca - An independent feature film.
Mister Miser LLC - Residential water-conserving urinal.
Molex Inc. - High-performance plated plastics for cell phones.
Mortgage Exchange - Home-loan origination.
Morton College - 29-hour registration rave for students; Resource Guide for teachers, advisers, et al. who counsel Latino students.
Motorola Inc. - Light-emitting inks and paper-thin printed circuits promotion of products in retail environments.
Nalco Co. - 3D TRASAR for industrial water treatment.
NDUIT - No DUI Tonight - Flat bed tow trucks to transport inebriated individuals and their vehicles.
NEC Display Solutions - Professional grade monitors for residential, commercial use.
Network Foundations - Delivers technology to businesses as utilities deliver their products.
Neuros Technology International - Software enabling users to record, play, stream and share content among electronic devices.
News at Seven Inc. - The News Engine program to comb online news outlets for major stories of the day and to pair them with video and still photos culled from sites such as Google Images and YouTube, delivered by an avatar.
No Friends Either - Portable campfire/signal.
Noise Barriers LLC - Pre-engineered, acoustically certified construction system modular sound studio; and pre-engineered sound-proof noise-testing chambers.
Northern Trust Co. - Cross-border pooling tax-transparent investment for multinational clients investing in different countries with differing tax, legal and other regulations.
Oasis Legal Finance LLC - interim funding for plaintiffs' lawsuits.
Onebox Receptionist - Onebox virtual PBX system.
Open Source Pictures - Web site to enable users to collaborate on scripts.
Our Black Ancestry - Software to find, preserve and protect African-American genealogy.
OVATION - Orphan drug salvage strategy.
Parkwhiz.com - Aids drivers searching for parking that is closest to a location.
PayCycle Inc. - Online payroll service.
Performance Communications Group - Patent-pending integrated marketing and customer-communications solutions.
PRIVA Technologies - Develops and markets advanced authentication technologies.
PeopleFilter - Web-based recruiting, evaluating and onboarding software application.
Phonak Hearing Systems - eShell digital hearing aid manufacturing mold.
PRIVA Technologies - Develops and markets advanced authentication technologies.
Planet 10 Spirits - Effen vodka martini dispenser/mixer.
PrepMe.com - Online student learning aid for SAT tests.
Primera Engineers - Design of train stations and platforms using composite materials.
Q Interactive E-mail Network - Mass e-mailing engine.
Raceline Motorworks - In-store racetrack for racing and building radio-controlled race cars.
Radio Flyer - Twist Trike and Ultimate Family Wagon.
Readables Inc. International - Children's picture books that can be read while reader maintains eye contact with audience.
Redbox Automated Retail - DVD coin-operated rental kiosks.
Restaurant.com - Gift certificate program; online reservation system.
Robert Bosch - Tools in Tubes program featuring one-purpose tools that fit in a small tube.
S&C Electric Co. - TripSaver dropout recloser fuse, senses severity of electric power outages and can repair itself, pre-empting need for service call.
Saint Xavier University - Arthur Rubloff Hall - Environmentally friendly residence hall.
SalesDrive LLC - the DriveTest - On-line personality test to identify top sales people.
Sandmarc Industries - Sandysack- Concealable bicycle helmet bag that attaches to the cross tube of any frame.
Sargento - Artisan cheese blends.
SAVO - Collaborative software to align sales message with client.
SCA Technologies LLC - SCAplanner - Supply chain management software.
Schmidt Exteriors Inc. - Air Krete foam insulation.
Scott Balice Strategies - Strategic financial advisory services for public-sector clients.
Sentiam Inc. - Foto Flot system - For displaying photos without glass.
SmartMedia - ShopLocal - Online advertising circular.
Shure Inc. - Music Phone Adapter - Converts Shure Sound isolating earphones into a stereo headset.
Shure Pets Inc. - direct selling program for pet products.
SitterCity.com - Online parent-sitter matchmaking site for child care and pet care.
Sky Kidz - After-school educational program using flight simulation training for inner-city kids.
Smart Medical Technology Inc. - Liftaem inflatable mat for transferring patients.
SolutionPeople - Chicago Thinkubator - InnovationTooloftheMonthClub.com provides members with a new creative-thinking tool each month.
SpiceStack - Storage unit for spices.
Sportsvision Inc. - TrackPass Raceview three-dimensional online, real time software for tracking NASCAR racing.
Spring CM - Document management software system.
Square D/Schneider Electric - Integrated Power Center 2, for installation of electrical equipment.
Square D/Schneider Electric - Clipsal residential lighting control system to set up lights from a single touchscreen, remote controller or a series of intelligent keypads. -
SulliPlu - Helps prevent growth of bacteria and yeast on the beer faucet making any bar a cleaner and more sanitary environment.
SurePayroll - Online payroll service focused on small to medium-sized businesses.
Synergistic Networks - Web platform enables non-technical users to manage Web content.
TalentDrive Co. - TalentSource - for executive recruiting.
Tarta Marketing LLC - Toppers pop-up package decorations that can be used as gift boxes or bags.
Teachers E. Corp. - Classroom in a Cart stocked with technology supplies.
TEFL Institute - TEFL (Teaching English as a Foreign Language) - Professional course learning system.
Tele-Grocers - Service that places Peapod grocery orders from disabled people who are unable to use the Internet.
Tvcompass - Smart remote control for electronic devices.
Thoughtly Crew - Creativity consulting.
TouchPointCare - Telehealth software to collect patient information in patient's home via telephone.
Tvcompass - Smart remote control for electronic devices.
TradingPartners - Auction bidding system to pit suppliers against each other.
Tray Innovations Inc. - flat two-cup carrier designed to hold large cups, food tray to carry two cups with with one hand, food tray to carry four cups at one time and food tray that enables user to eat, drink and walk at the same time.
Tripp Lite - HT1210ISOCTR Isobar Audio/Video Power Center - Power router that brings power to individual banks of outlets at individual times.
United Scrap Metal Inc. - Aluminum printing-plate recycling program.
Univa - Cluster of linked computers that share resources, reduce costs.
USG Corp. - Michelangelo Single Coat Faux Finish - Decorative, patent-pending wall-treatment finishes for creating a high-end faux finish with just one coat of paint.
Valet Today - Campus provides college students living in residence halls with regular housekeeping-oriented services.
Varitalk - Wavserver 2.0 - Software that enables users to send voice messages in the celebrity or character voice of their choice.
VASSOL - Vascular analysis technology.
VerveLife - Rhymba interactive promotional marketing platform.
Vibes Media - Text messaging platform that enables TV viewers to interact with each other by sending text messages to the TV screen.
VisaNow - Facilitates immigration processing.
Waters Edge Technology - Stabilator - Patented system to reduce soil erosion.
Zebra Technologies - MZ 220 handheld mobile printer.
Zebra Technologies - Antimicorbial patient wristbands to protect patients from hospital infections in the United States.
Z-Slip - Packing-slip solution.
ZipCar Inc. - Shared-car service.
For more information on these awards, visit chicagoinnovationawards.com.
Share this article
---
Additional Resources for Entrepreneurs