Search Engine Optimization
SEO Keyphrases
Wondering how to search engine optimize a website? It all starts with defining 100 keyphrases that you want to do well on in the search engine results pages.
Search engine optimization starts with the creation of a list of keyphrases you will be optimizing for.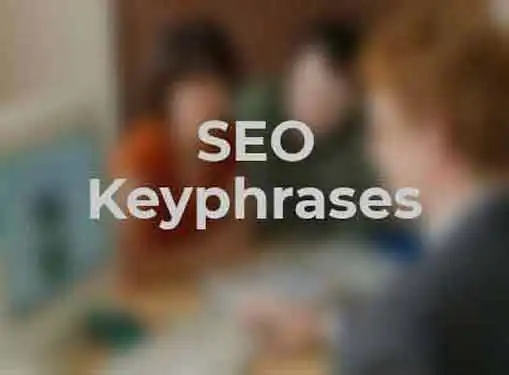 When somebody searches in Google or another search engine for any of these phrases, you want to be in the top ten.
Ideally, you are #1 in the search engine rankings, but the general idea is that you want to be as high in the search engine results as possible.
Interestingly, some people argue that it's better to be #11 than it is to be #10. If you are #11, you will be at the top of the second page of search engine results, assuming the search engine shows 10 results per page. Some say that's better than being at the bottom of the first page.
But we digress. Let's get back to search engine optimization and how to pick keyphrases to target.
It's good to create a list of about 100 phrases and to prioritize them as Most Important 5, Next Most Important 10, Next Most Important 20, and Everything Else.
The list should include a fair bit of redundancy. For example, "cosmetic dentists", "Wilmette cosmetic dentists", "chicago cosmetic dentistry", and "good cosmetic dentists in Chicago area" would all be good terms for a cosmetic dentist located in Wilmette, Illinois or a Chicago dentist.
Note that your optimization efforts should always consider what phrases people might actually use to find your services. In our previos example, one person might search for "Wilmette cosmetic dentist" while another might search for "teeth whitening services in Wilmette."
Are you starting a search engine optimization project now?
If so, do you have your list of target keyphrases, with priorities defined?
If not, take time now to generate a list of 100 keyphrases that are most important to you.
Mind you, your initial efforts at optimization should focus on the Most Important 15 phrases. Trying to tackle much more than that can make your initial project unwieldy at best and virtually impossible in the worst case.
Hard by the yard, cinch by the inch. That's a good way to approach search engine optimization.
After all, search engine optimization is not a "one time deal". It's something you want to continue to work at over time.
So, start with 15 phrases now and then you can focus on the other 85 terms and beyond later.
Share this article
---
Additional Resources for Entrepreneurs