Entrepreneurial Selling
Cold Call Selling
Cold call selling is tough but the best salesmen don't go in ice cold. When it comes to cold call selling, a little sales research goes a long way.
Selling is hard enough, but cold call selling?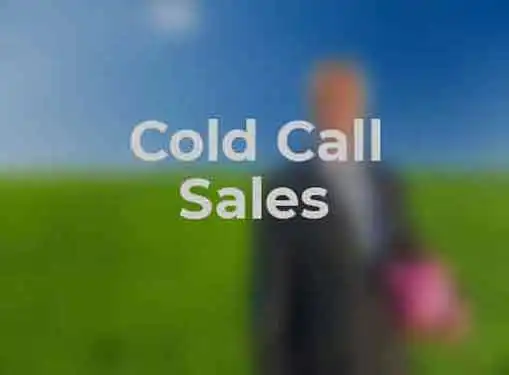 Sometimes cold call selling can seem downright impossible, especially if you don't have the confidence you need to make the sale.
A sure way to boost your confidence - and your odds - is to know what you are talking about before you make the call because when it comes to cold call selling, a little research goes a long way.
For most small business owners, cold calling is a necessary evil, something that goes with the territory of selling in a competitive business environment. Perhaps the most daunting aspect of cold calling is the blind feeling you get when talking to an unknown prospect. Although you can never completely eliminate the blind nature of cold selling, you can lessen its effect by learning as much as you can about your prospect and your products before you make your initial contact.
The kind of information that would be helpful to know ahead of time runs the gamut, depending on your product's characteristics and the nature of your industry. Even so, for most products you should have answers to some basic questions, including the following:
Does the prospect have a need for my kind of product?
The most fundamental question that needs to be answered is whether or not the prospect even needs the kind of product you are selling. Trying to convince a prospect to use a product he doesn't need is about as effective as selling a hotdog to a vegetarian - no matter what you say or do, you're going to walk away empty-handed.
Does the prospect already use my product?
Sound ridiculous? Maybe, but not nearly as ridiculous as asking a prospect to buy a product he's already purchased. Regardless of how disorganized your company is behind the scenes, clients and customers expect a certain amount of coordination between departments. If the prospect is already doing business with your company and you don't know it, they may take your cold call as a sign that you don't have your act together and you might lose the account altogether.
Who is the current vendor?
If possible, find out which product the prospect currently uses. This information is invaluable because it gives you the ability to tailor your approach in a way that undermines the competition. Getting this information can be difficult, but one approach might be to call the prospect's office a few days before the cold call and ask the receptionist who they currently buy from without actually pitching your product.
Who is the decision-maker?
This is probably the most important piece of information you need to have before you make initial contact. You could spend days, even weeks, pitching your product only to find out later that the person you were talking to didn't possess the authority to make purchasing decisions. A word of caution about decision-makers: Don't assume that the owner of the company is the decision-maker for purchases. In many cases, business owners delegate purchasing responsibilities to someone else. Find out who that person is and start selling.
Share this article
---
Additional Resources for Entrepreneurs