Collateral Materials
Effective Brochures
Effective brochures generate new leads and accelerate sales cycles. But cost shouldn't be the only consideration when you create a new brochure. In fact, there are a ton of other things you should also be thinking about.
Everyone has a brochure, but very few businesses have an effective brochure.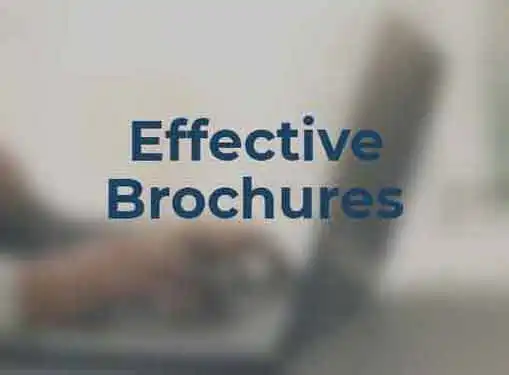 Why? Because a lot of business owners don't understand why they need a brochure in the first place.
More than anything else, a brochure is a selling tool – a resource to generate new business for your company. Some business owners have the misunderstanding that a brochure's primary purpose is to provide information about the company, the people, and even the owner himself.
If your brochure isn't delivering results for your business it's time to go back to the basics. Here are just a few of the things you'll need to do to give your brochure the sales focus it deserves:
Make it count. If you don't take your brochure seriously you won't get results. That means you will need to invest no small amount of time, energy, and resources into the creation of your brochure. Can you crank out a brochure on your laptop tomorrow afternoon? Sure – just don't expect to get much of a return for your efforts.
Sell, sell, sell. Have you ever noticed how many business brochures go into extraordinary detail about the company but only devote a couple of lines to their products? That's a huge mistake. Believe it or not, consumers don't care about your company stats. They're more interested in learning the benefits your products or services can provide for them and their families.
Keep it visually appealing. A brochure featuring a black-and-white picture of your building and printed on colored 20# paper is cheap to produce. Here's the problem: Your prospective customers know it's cheap and the grainy photo of your building isn't making your products any more appealing. Create a brochure that captures the eye and the imagination, even it means springing for professional images and higher quality print options.
Tell the reader what to do. Like any effective advertising tool, your brochure should invite the reader to take action or make a purchasing decision. The entire brochure should convey a sense of urgency, culminating in a final burst of copy that spurs them toward immediate action.
Make it easy. All of the work you have put into creating a first-class business brochure will go down the drain if you don't make it easy for the reader to contact you. Prominently display all of your contact info on the back panel, including your physical address, mailing address, phone numbers, fax number, email address and (most of all) your website address.
Share this article
---
Additional Resources for Entrepreneurs