Employee Engagement
Engaging Employees Using Social Media
Business applications of social media are emerging everyday. We'll tell you how some employers are using social media to engage their workforce.
You don't have to look far to see that social media is transforming the way companies relate to customers.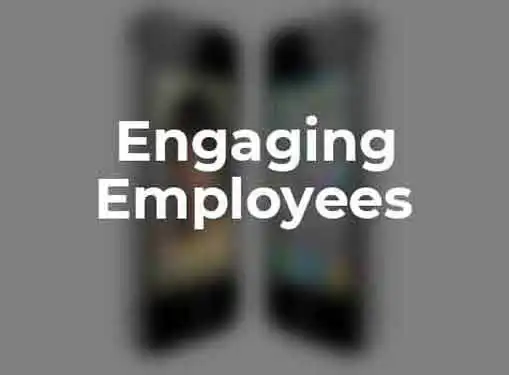 Progressive-minded businesses are using social media sites like Facebook, Twitter, and FourSquare to connect with their customers and promote their brands in the broader marketplace.
Many businesses are also using social media sites as a way to connect with their employees. Employee engagement requires owners and leaders to interact with the workforce. Online social networks facilitate those interactions and invite employees to make a greater commitment to the company, its customers, and its mission.
As communication budgets continue to decline, social media is becoming an attractive, cost-effective communication tool for employers. In a recent survey of employers, 79% indicated that they regularly use some form of social media to communicate with their employees. Although it's important to tailor your social media strategy to the needs of your workforce, here are several ways you can use social media expand your employee engagement strategy.
Facebook. Facebook has become the baseline of social networking. There are more than 500 million Facebook users worldwide, more than 50% of which login at least once a day. Using Facebook groups, fan pages and other tools, owners and employers can integrate company life into their employees' daily lives through conversations that promote the brand and collaborative dialogue.
Twitter. Twitter hasn't found as much traction as Facebook because some people don't see the value of Twitter. But savvy business owners know that they can use Twitter to microblog updates to peers, consumers and employees. When properly executed, a Twitter strategy can engage employees in leadership concerns on a daily or even hourly basis. And by following your employees' Twitter accounts, you can stay current on the issues that are important to them.
LinkedIn. LinkedIn is a sort of Facebook for professionals. Business pros use LinkedIn to maintain and expand their network of industry connections. With a minimal amount of effort, you can establish a company page on LinkedIn that has profiles of team members. This reinforces employees' identity in your organization and in your industry.
YouTube. Many people don't realize that in addition to being an online video database, YouTube has a social networking function. Users can set up an account and follow selected YouTube channels to stay current with new video uploads. There are multiple ways you can use video to improve employee engagement, and by encouraging your staff to subscribe to your company's channel, you can create an online community around your brands online videos.
Share this article
---
Additional Resources for Entrepreneurs