Entrepreneurship for Scientists
Entrepreneurial Opportunities in Nanotechnology
Nanotechnology focuses on small things but it's a big entrepreneurial opportunity. Learn why venture capitalists are keeping a close eye on this fast-emerging industry.
In the eighties, most of us lived by the creed that bigger is always better.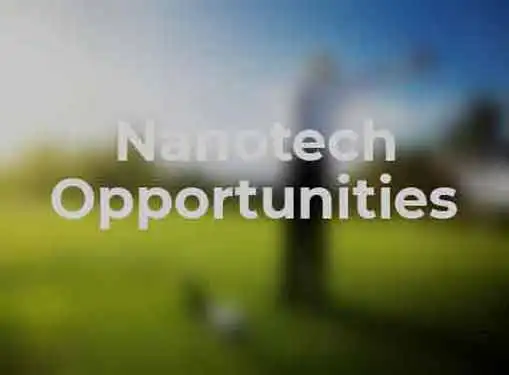 But these days, a growing number of entrepreneurs are discovering that big ideas - and big profits - sometimes come in really small packages.
Nanotechnology is a field of science dedicated to the study of matter at the molecular level. For those of us lacking an advanced degree in physics, the description alone can be daunting. Unfortunately, most non-scientific people steer clear of nanotechnology because the science is confusing, the terminology is intimidating, and the practical applications seem questionable.
But for an entrepreneur, it's a big mistake to write off nanotechnology. Here's why: Nanotechnology is an emerging field with an extremely broad range of commercial uses and the number of newly discovered uses is increasing at an exponential rate. Each new discovery creates opportunities for pioneering entrepreneurs to profit by bringing nanotechnology to store shelves. Business owners who bury their heads in the sand place themselves at a disadvantage, while those who get onboard with nanotechnology early are positioned to reap tremendous benefits in the years ahead.
Although you could fill a book with the ways nanotechnology has already appeared in the marketplace, some of the most commonly-known applications include the following:
Materials
One of the most remarkable uses of nanotechnology has appeared in the area of materials and materials sciences. For a long time, the textile and materials industry was relatively stagnant. Although the styles of clothing changed from year to year, the material itself stayed the same. Cotton pants were cotton pants no matter how you arranged the fabric. But with the advent of nanotechnology, improvements like stain-resistant fabric have appeared on the scene, offering a whole new world of possibilities in the clothing industry. In the years ahead, it is expected that nanotechnology will have a similar impact on other materials - and have a similarly transforming effect on the industries that rely on them.
Data Storage
Another industry in which nanotechnology has had a revolutionary effect is data storage. Remember those big, floppy disks you used to use for file storage? They're long gone now, replaced by disks and devices that give you the ability to hold all of your word processing files, spreadsheets, pictures, music, and movies in the palm of your hand. As the technology advances, the cost of producing data storage products declines and presents new opportunities for entrepreneurs. For example, advances in DVD technology have reduced costs to the point that businesses like NetFlix can now afford to deliver movies by mail and let their customers keep them for as long as they like. It's almost certain that future advances in nanotechnology will present similar opportunities for entrepreneurs who are positioned to transform them into viable consumer products.
Energy Products
Everyone is talking about energy these days. The push toward cleaner and "greener" forms of energy will inevitably result in the introduction of new products in the marketplace, many of which will hinge on the science of nanotechnology. If nanotechnology appeals to the entrepreneurial spirit in you, energy products are a field you can't afford to ignore. Get conversant in the field and stay alert to opportunities when they arise.
Share this article
---
Additional Resources for Entrepreneurs