Forming a Company
Fundamentals of Joint Venture Partnerships
Written by Kristin Marquet for Gaebler Ventures
After two or more companies decide to form a joint venture, it does not necessarily have to include the formation of a new legal entity such as a partnership or limited liability company, but some states and countries require some type of de facto partnership for the new business.
Joint venture or strategic alliance agreements are often complicated and full of legal jargon thus is it imperative to have the duration, scope of work, terms and conditions, responsibilities, financial arrangements, and management control defined clearly, so that each party involved understands what is expected of them.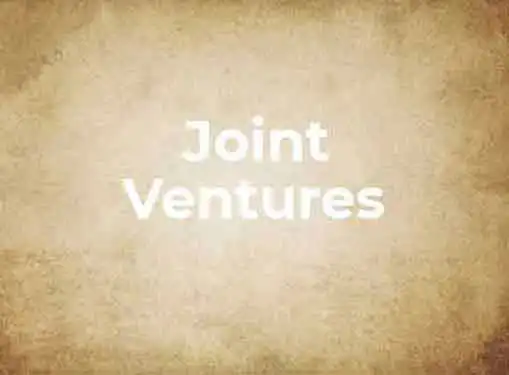 It is suggested that you have an attorney to draft the joint venture agreement to prevent any misunderstandings.
Elements of a Joint Venture Agreement
Business plan - A business plan is vital to a joint venture. Each party must know its role, responsibilities, goals, etc. The plan should define governance, management, accountability, decision-making, and conflict-resolution strategies.
Contractual Agreement for each entity - Joint venture contracts are usually entered into between two or more entities to reach a particular goal (i.e. development of a new product, produce some type of event or provide a service, enter a new market, have greater access to needed resources).
Duration - Joint Venture agreements can have time limits ranging from months to spanning over several years, thus it is important to establish the amount of time it will take to meet those goals.
Scope of Work - The scope of work section defines work activities of each party, each party's responsibilities, contributions, as well as the exact nature of those responsibilities.
Common Goals and Objectives - The entities involved in the joint venture share common expectations with regard to goals and objectives. Goals and objectives must be clearly defined to prevent misunderstandings. Consider these questions when drafting the goals and objectives section of the agreement: what are the venture's six-month goals? What are twelve-month goals? How will goals and objectives be measured? Who will evaluate these goals?
Contributions - Each entity involved in the joint venture will contribute something valuable such as property, cash, expertise and knowledge or capital for the this new venture.
Shared Profits and Losses - Consider the following questions when drafting the financial portion of the agreement: If funds will be made available to the group from investors or some other outside source, who will receive it and how will it be distributed? Who will be responsible for managing the money? How will expenses/profits/losses be split among the parties?
Intellectual Property - If intellectual property rights are involved, who will own them?
Management and Control - The entities involved in the joint venture share management duties and control interest. Each entity must know its expectations, what its responsibilities are and how it must carry out those responsibilities. Consider these questions: Who will be responsible for what? How much control does each party have?
Kristin Marquet will be receiving her MBA from Harvard University in Fall of 2010. She has worked in the marketing and public relations field for over 10 years.
Share this article
---
Additional Resources for Entrepreneurs