Lobbying Advice for Business Owners
Grassroots Lobbying Tips
Grassroots politics can be a powerful tool for business owners. Here's how you can use grassroots lobbying techniques to advance your company's political agenda.
The business community has a major stake in the American political process.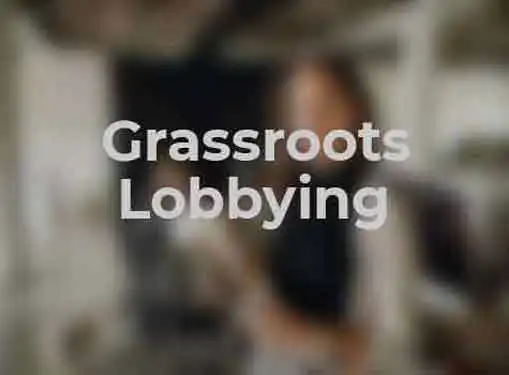 The creation of laws, the awarding of contracts, and other legislative activities dramatically affect the business landscape, impacting both large corporations and small companies.
Large companies exert influence over the political process by hiring paid lobbyists. For a substantial fee, these political specialists help shape lawmaker's opinions inside the Beltway and in state capitols across the nation. They are extremely skilled at gaining access to governmental decision makers and creating coalitions around issues that are important to their clients.
Small businesses are usually left in the lurch when it comes to lobbying. Hiring a top-tier Washington lobbying firm isn't on their radar and even lobbyists that cater to small companies can be pricey. Minimum annual financial commitments approach six figures.
Grassroots lobbying strategies are an attractive option for companies that lack the resources to hire a paid lobbyist. And despite what you hear, a carefully orchestrated grassroots strategy can be just as effective as hiring a professional lobbyist. Here's what you need to know . . .
Research boundaries. Lobbying – even at the grassroots level – is subject to legal and ethical restrictions. As a grassroots lobbyist, you probably won't run the risk of an ethical breach involving exorbitant campaign contributions. But in some jurisdictions, even buying a lawmaker a cup of coffee can constitute an ethical breach.
Know lawmakers. It's important to get to know the lawmakers who represent you in local, state, and federal legislative bodies. As much as possible, try to develop personal relationships that can be leveraged throughout the grassroots lobbying process.
Consolidate your message. Clarify what you want to accomplish before you initiate any grassroots lobbying activities. At this level, the most effective messages target specific issues that affect large groups of people.
Consider multiple strategies. There are many strategies that can be used to perform grassroots lobbying. Personal letter-writing campaigns that references specific legislation and bill numbers have the most impact. If time is limited, phone calls to legislative offices are also useful. Email campaigns are largely ignored because it's too easy to cut and paste content.
Recruit the masses. The success of grassroots campaigns hinges on the organizers' ability to recruit large numbers of people to the cause. As a business owner, you can recruit customers, staff, and other entrepreneurs to join your efforts to influence lawmakers.
Share this article
---
Additional Resources for Entrepreneurs