Business Card Advice
Green Business Cards
Business cards haven't traditionally been known as environmentally friendly business tools. But green savvy entrepreneurs are finding ways to design business cards that are good for business and good for the environment.
In today's business environment, most business owners want to do right by the environment as long as it doesn't affect their ability to successfully operate their businesses.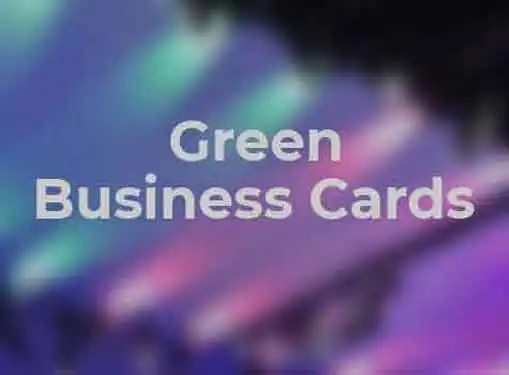 While the environmental impact of a single business card is a non-event, the cumulative impact of millions of business cards (many of them collecting dust on the shelves of office supply closets) raises concerns, especially among business owners who are committed to promoting green business practices.
To mitigate their concerns, some business owners are exploring ways to combine their environmental commitments with their need for attractive business card designs. The result is a highly creative approach to business cards that simultaneously promotes the company and environmental responsibility.
In addition to ordering small quantities of business cards, here are just a few of the things environmentally friendly entrepreneurs are doing to create greener business cards:
Eco-friendly Paper & Printing. Recycled and eco-friendly paper is now available in nearly every style, weight and color you can imagine. When it comes to your company's business cards, you should have no problem locating card stock that works for both you and the environment. Many printers are also giving their customers the choice of vegetable-based inks and other green printing options.
Virtual Business Cards. Since they don't require any paper or ink, virtual business cards are the most environmentally friendly business card alternative. The rise of PDAs and other electronic devices has led some executives to abandon business cards altogether. Instead of handing out pieces of paper, they send their contact information directly to the recipient's contact application or email account. Microsoft Office and other solutions even give executives the option of creating virtual business cards that look just like the real thing.
Environmental Tips. Other small business owners have abandoned the idea of designing a low-impact business card and have decided to take a carbon-neutral approach to the business card dilemma. While the front side of the business card remains the same, the back side contains environmental tips and suggestions that will hopefully offset the impact of the business card itself.
Creative Solutions. Small business owners have an aptitude for creating solutions that bridge the gap between personal responsibility and smart business practices. To promote environmental responsibility, one company attached a small packet of seeds to their business cards. When done well, similarly creative solutions can promote green initiatives and the company's reputation at the same time.
Share this article
---
Additional Resources for Entrepreneurs