Accounting Advice
How to Embezzle Money
To catch a crook, you have to think like a crook. Learn about these ways to embezzle money so you won't become a victim of embezzlement.
Embezzlers are out there, and they are more common than you might think.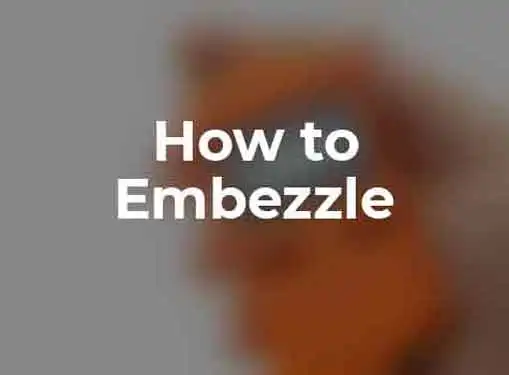 Look around the office. Is it possible one of your employees is an embezzler?
Every day there are newspaper stories about how an employee has managed to divert company funds to his or her own pocket.
For example, I recently read about a bank employee who set up a line of credit for a business - without ever telling the business owner.
The bank employee proceeded to draw on the line of credit and racked up a big debt for the business while spending the money at a local casino.
In another instance, a friend's father ran a consulting business with a partner. Unbeknownst to him, the partner set up a secret business account using their company name. Every so often, he would deposit business checks into his secret account, effectively stealing the money for his own purposes.
While these embezzlers were caught, many talented embezzlers never get caught. If you own a business and think you are immune to embezzlement, then you are a great target for an embezzler.
Get vigilant or get victimized. That's our advice to you.
So What Is Embezzlement Exactly?
In legal speak, embezzlement is the fraudulent appropriation of property by a person to whom it has been entrusted.
The key word here is entrusted. That's what makes this crime different from ordinary theft or larceny. The embezzler is someone in your company whom you trust.
Embezzlers usually think that they are smarter than the owner manager and cunning enough to beat the system. Before you set about to outwit them, it is a good idea to be familiar with some of their methods of operation.
Common Ways to Embezzle
Methods of embezzling are limited only by imagination. Here are a few of the more common methods:
Stealing Cash. In the simplest situation, cash is received and the employee merely pockets it without making a record of the transaction. This is especially popular in cash businesses, such as bars or restaurants.
Lapping. In a lapping scam, a receivables clerk might steal a $1,000 cash payment made by customer A. To avoid arousing suspicion, they steal $1,000 from a $2,000 payment made by customer B a few days later and use that to "pay" customer A's bill. The process continues and the employee makes away with increasingly larger amounts of money, involving more and more accounts.
Check Kiting. Check kiting takes advantage of the time period between deposit of a check and collection of funds. The check kiter steals money from the company and deposits the money in an account. He then writes checks back and forth between two bank accounts, his own and that of the business, each time escalating the amount of the check. In effect, the money exists in two accounts at the same time.
Payroll Fraud. Enterprising embezzler sometimes add relatives or fictitious individuals to the company payroll and thus enjoy several salary checks each week instead of one.
Fake Loans. Taking out a loan for a business and not telling the owner is a common way for embezzlers to get their hands on cash quickly. When the loan eventually comes due, the embezzler is long gone.
Undercharging. Cashiers in retail firms can undercharge relatives or friends for merchandise.
Fictitious Bad Debt. After depositing a check from a customer in his or her personal account, the embezzler/accountant may record the receivable as bad debt, as if it had never been paid.
Fraudulent Vendor Purchases. A dishonest employee may set up a dummy supplier and creates bogus documentation of fictitious purchase transactions. He pays the fictitious vendor, i.e. himself, and spends the money on a new car or some other indulgence.
Fake Refunds. A fake refund involves issuing a refund to a customer that doesn't really exist and pocketing the money.
Kickbacks. Purchasing agents can accept kickbacks from suppliers from purchasing goods at inflated prices.
Bogus Expense Receipts. Salespeople and others can pad their expense reimbursement requests. Alternatively, personal items can be bought and charged to the company.
Stealing Office Supplies. Employees can make personal use of company postage stamps, supplies and equipment, as well as charging personal long distance phone calls to the business.
Andy Grove, head of Intel, once wrote a popular book called Only the Paranoid Survive. Since there are so many ways to embezzle money out from under your nose, it certainly pays to be paranoid. If you think you are safe from embezzlement, you're an easy target.
Share this article
---
Additional Resources for Entrepreneurs