Business Leaders
How to Lead Leaders
Written by Chukwuma Asala for Gaebler Ventures
Most people if asked if they would want a high performer to come into their organization would almost immediately respond with an emphatic yes. But it is much easier to lead a follower than it is to lead a leader. How does one go about leading a self-starter? This article will broach some key things to be aware of when managing a leader in your organization.
Leadership and management have for a long time been misconstrued as being one and the same, but not anymore.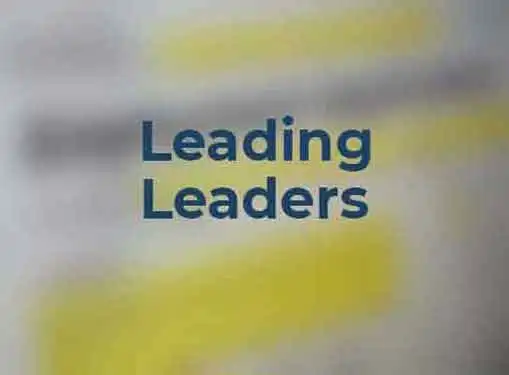 Today in the business world it is more effective to develop leaders from within rather than hiring an external professional to come in to do the dirty work. This is usually expensive and is not always assimilated quickly because different organizations have different cultures.
But regardless, high performers either from outside sources or within the organization are tough to lead. They know what they're doing and have a solid work ethic that is usually unmatched by most.
Leading such individuals takes a humbling of the competitive spirit in most entrepreneurs. Egos are usually the first things that have to be put in check if a healthy relationship is to be established. Let us take a look at some of the important things to do to effectively manage a leader in your organization.
Be the Example
This is rightfully the very first thing to shoot for to be effective in management of the high performing leader. Leaders will only follow leaders.
Most leaders are compared to lions and for good reason. A lion leading a herd of sheep will always defeat a sheep leading a herd of lions. So with that in mind, remember that if you have a ferocious performer in your organization they will be looking for an equal to follow and you better hope it is you.
They deserve that from you so make sure you're en example in all aspects that they are proficient. They will only really listen to you if they're sure you know what you're talking about. Remember, they want to get the job done just as much as you do.
Continue to develop yourself
This is tied in with the first point. Apart from being a good example you also have to make sure that you are on a personal growth program yourself which will keep you stretched.
This is not to imply that you must be perfect; this isn't possible. But you should always be striving for excellence in yourself. The leader in your organization will see that and acknowledge your effort and this will give you credibility in his eyes which is very important.
Be a partner, not their boss
This is usually the toughest part of leading a leader. The tendency is to fall back on your position in the organization as a reason to demand respect, credibility and submissiveness from everyone.
You must remember that if someone is a top performer in your business, they KNOW they are a top performer and will expect a little more respect and friendship from you than some of the other people.
Give them that respect as long as they have earned it and make sure they know you appreciate the extra leadership they bring to the table. Bounce ideas of them if your self-image can handle it and take their advice into consideration. After all there is a reason why they are a top performer. It takes a strong leader to not compete with an up and coming leader in his organization, so if you struggle with this welcome to the club.
Develop trust early
John C. Maxwell is quoted famously as saying "people don't care how much you know until they know how much you care".
Make sure to work on developing trust with this person early on. Let them feel you working to develop this trust; it will endear them to you and they will appreciate your effort. The tendency is to rest on your position as boss and wait for your employees to initiate. But a lot of respect is given to the leader who can step down from his throne and work on developing friendships with his people.
Trust comes from two sources: service to others, and words backed up by action. Do things that are not necessarily expected of you like remembering birthdays, noticing they're having a bad day and encouraging them, etc. And secondly if you say you will do something, do it. It takes a little more effort, but the return on the investment in these types of relationships is huge.
Empower by giving more responsibility
This is for you control freak, dominant type-A personalities. It is okay to not control everything that goes on in your organization, especially when you have a leader that you know is more than capable.
Resist the natural tendency to give unsolicited advice. This will only piss off your top performer even more. Rather, wait for them to come to you for advice as they will always act on advice they sought out more than advice that was forced on them.
Unsolicited advice is just as good as criticism and will create tension between the both of you over time. Give them more responsibility with little directions on how to get the jobs done. Let them know you trust their ability and watch them go beyond the call of duty to rise up to your expectations.
Chukwuma Asala is an international student from Nigeria who is studying to earn an MBA from the State University of New York in Albany. He has analyzed more than 20 industry case studies throughout his education thus far, and hopes to bring some of his business knowledge to Gaebler.com.
Share this article
---
Additional Resources for Entrepreneurs