Starting a Fitness Business
Interview with Marina Kamen, Founder of Marina Online
In 1987 Marina Kamen started an entertainment company that transformed into an online fitness business in 2006. She shares with us tips for women entrepreneurs that are looking to become successful at their own businesses.
Marina Kamen has taken NYC by storm creating award winning downloadable audio fitness products.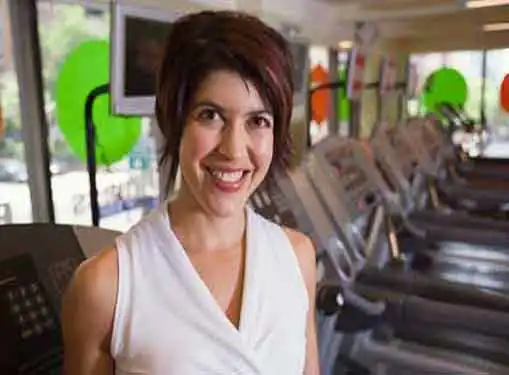 Tell me about your current business. What are you doing exactly?
After 26 years in the commercial recording & music business I pioneered the online music & fitness field with MarinaOnline. I secured the People's Choice Award for Health & Fitness Podcasting back in 2005. We now have online 1,200 Musical Fitness programs for download. Our success is due to writing/producing over 50 albums and 400 songs with Billboard charting...years of recording studio expertise and equipment. After losing 100 pounds myself, I targeted the fitness arena. Writing and producing this catalog has taken over 20 years combining all these areas.
What were you doing before this, and is this your first business?
In 1987 my husband and I ( we are married 26 years) opened Kamen Entertainment Group, Inc. We grew the business into an award winning commercial and music production company in NYC. Before that, from childhood until 24 years of age, I was pounding the pavement as a singer/songwriter/choreographer and musician, supplementing my income by teaching aerobics at Body Design by Gildas.
What advice would you give to somebody else who wanted to start a similar business?
Know that growing a business takes years, sweat, hours of time and money. Know going in that nothing happens over night. Owning your business is a 24 hour a day 7 day a week experience that requires stick-to-itness and patience.
How did you come up with your business idea?
I merged the worlds of web/social networking and media, commercial writing/production, voice over, copy writing, songwriting, fitness expertise, and technical production and a personal journey of 100 pounds lost that has taken a life time to battle.
For women entrepreneurs, what specific advice would you have for young women who would like to become an entrepreneur? Are there specific advantages, disadvantages to being a women business owner?
Shhh! don't say it too loud...but women still have a tough time going up against men in business. There is still that hill to climb. Far too many times I find myself listening to a man in a meeting that sounds like he is educating out loud or not giving me full eye contact. Also, as a mom of 3 kids now ages 16, 18 & 23, the balancing act of being a working mom can be very difficult. We are still the ones that feed everyone and keep track of schedules. This mixed with a feeling of pull, "should I be working now or spending time with the kids?", is still a lingering issue.
I know the feeling, Marina! Tell me, do you consider your business green?
Having a business with 1,200 music and fitness programs for download is about as green as you can get. No packaging....no manufacturing...no shrink wrap....no garbage just download via the web.
Social marketing is consistently being written about in the small business space. Has it worked generating business for you?
Social Marketing is a must especially for women in business. In recent years, women have been learning how to keep the competitiveness with other women out of the equation and reach out to help each other. Women over the age of 40 being the largest demographic of consumers in the country are also the ones that are needing to catch up where technology and social networking are concerned.
Health & fitness for women and families is in most people's radar these days with obesity on the rise. Money is tight for us all...so having inexpensive, fun, easy, at home fitness choices is a huge industry. Online social marketing has been ke, however conventional Radio/TV & Print advertising are still the focus of most Americans and can be the most challenging for a new and small business due to high costs.
What have you done that has been very effective in helping to grow the business?
Being the primary person who deals with press and promotion. I have gone through years of hiring and firing PR people who have no accountability. Make your own sales calls. Only you can make the words flow and have the quickness of tongue to answer a busy person's questions that you are pitching to. Time and money can be wasted by leaving a person alone to do the task of sales especially in this "grey" world of the web. How do keep track, really, of what a sales rep does for you. Take your own biz and forward thinking by the balls.
That is great advice for women entrepreneurs. Thanks, Marina!
Share this article
---
Additional Resources for Entrepreneurs