Starting a Communications Firm
Interview with Steven Gaffney, Founder of The Steven Gaffney Company
Steven Gaffney had a variety of entrepreneurial experiences before founding The Steven Gaffney Company. Today he helps other businesses reach their full potential.
Steven Gaffney founded his company in 1994 in Arlington, Virginia.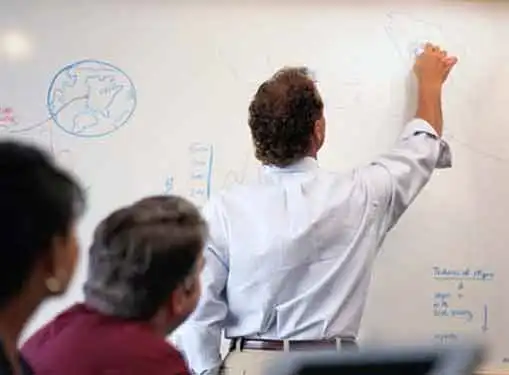 Tell me about your current business. What are you doing exactly?
At The Steven Gaffney Company is a firm that increases team performance, revenue and profits through honest communication.
How did you come up with your business idea?
I fell into it. The very first seminar I did was teaching photography and creative people about motivation, and in my business, if you can stand up and teach and produce results, you'll get re-hired...so word of mouth spread and eventually it led into the business that I'm doing now.
Who did you hire to help you? Bookkeeper, Accountants, Lawyers ...? Would you suggest others do the same?
The very first part-time hire I ever did was for an assistant. I would highly recommend anyone who's starting a business to do that as quickly as possible so that you can begin to delegate things that are not your core strength and expertise.
With the current economy in a slump, what cost saving tips would you have for a new entrepreneur?
Rather than focus on cost savings, I think it's a great time to look at your business and make sure you're really helping your clients with their wants and needs. By us focusing on increasing revenue, profits and team performance, we have been able to grow when the economy was shrinking.
Have you outsourced any portion of your business? Has that worked for your business?
We bring in many associates with varying expertise for particular jobs so that we can achieve the desired outcomes of our clients needs.
Social marketing is consistently being written about in the small business space. Has it worked generating business for you?
We've begun to focus on that but I think the thing that we have to be careful about is doing things because others are doing it rather than making sure that what we do gives us maximum return on our investments and time. So we are now watching the results of social marketing.
What have you done that has been very effective in helping to grow the business?
Constantly re-examining things to make sure we service the clients wants and needs and most importantly help them increase their team performance revenue and profits.
What advice would you give to somebody else who wanted to start a similar business?
Know how to sell the business and focus on servicing the customer and their wants and needs.
Excellent advice, Steven. Thank you for your time!
Share this article
---
Additional Resources for Entrepreneurs