Business Strategy
Is Your Business Scalable?
Written by James Garvin for Gaebler Ventures
Scalability refers to your ability to increase revenues while your marginal costs decrease with each unit sale and is an attractive feature for many business and business owners because of the profit potentials that scalable businesses offers.
Software firms, such as Microsoft are excellent examples of scalable firms that benefit from low marginal costs of swelling additional units.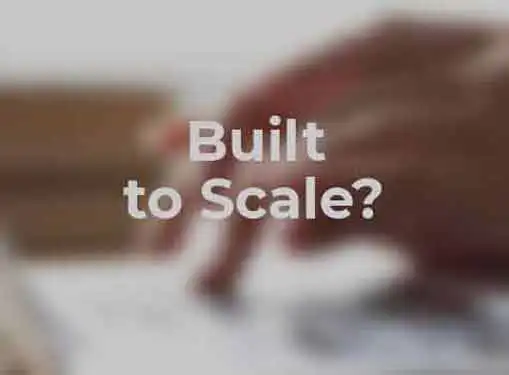 Once Microsoft has developed a software package, there are very few added costs for each additional unit of software that they sell. Microsoft's challenge is to sell enough units of its software to recoup its high up-front research and development costs associated with developing the software (which we know they have no trouble doing). After they have sold enough units of software to "break-even" each additional unit that they sell is almost near profit since their costs to sell each additional unit is so low.
Consultants, doctors, lawyers, and other professionals that often work on an hourly or pay per fee basis represent businesses that are not scalable. A professional is paid only for each unit of work that they produce which is directly tied to their personal time. A doctor does not get paid unless he spends time with a patient, lawyers cannot get paid unless they are spending billable hours on client works. There is no direct way for a professional to increase their profits without increasing their marginal cost ("aka" their time). As an entrepreneur and business owner, you have a choice and can strategize on the best methods for creating a more scalable business to provide you the opportunities to catch a lot of upside earning potential.
Attractive revenue models are those that consist of a set of fees and percentage of profits. Waiters earn an hourly fee and a % based on the cost of the food and drink served. As a waiter, I can earn 10x more working at a high-end restaurant than another waiter at a restaurant that serves only $10 hamburgers simply because the food I am serving costs more. The work involved to serve a plate of food at an upscale restaurant certainly has a different set of skill sets required, but is not necessarily 10x harder than serving food at a $10/meal restaurant.
PayPal is another example of a business that scaled quickly because of low incremental costs with each transaction it processes that also reaps the benefits of being able to charge sellers a flat-fee per sale plus a percentage of the transaction cost. It does not cost PayPal anymore to process a $1,000 payment as it does a $1 payment, yet PayPal can earn 1,000x more for a $1,000 payment than a $1 payment.
As you evaluate your business model and business strategy, consider alternative ways to making your business more scalable. Look for strategies that allow you the opportunity to earn a commission on each transaction or each sale, because as transactions increase and sales increase, the cost of those transactions and sales are usually marginally lower allowing you to earn a greater profit for less work!
James Garvin began his education studying biotechnology. In recent years he has turned his interest in technology to helping two internet startup companies. The first business was an online personal financial network and the second was an e-marketing platform created to help entrepreneurs demo their web sites. Currently a student at University of California Davis, James is spending his summer incubating two new online businesses and writing about his entrepreneur experiences.
Share this article
---
Additional Resources for Entrepreneurs