Real Estate Decisions
Lease Renewals for Office Space
Lease renewals for office space can be tricky. Moving offices would be a pain, but you still want a good deal on your renewal. Here's how to renegotiate your lease.
Finding (and keeping) quality office space can be the kind of thing that keeps small business owners up at night.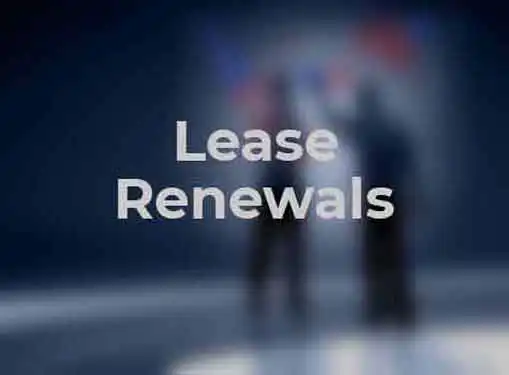 But when it comes time to renew your lease, there is one thing that might help you sleep a little easier - options. The more options you have, the easier it is to secure the office space you need when you need it.
To gain the upper-hand in a lease renewal scenario, you first need to understand the competing interests of the lease relationship, each vying for terms that correspond to their specific interests.
Landlords are almost always interested in securing the longest lease possible (usually five or ten years). By obtaining contractual occupancy for a longer period of time, the landlord establishes a steady stream of income by minimizing the amount of time the space is vacant and reduces the costs associated with marketing the space to new tenants every few years.
Tenants, on the other hand, want to secure the best space for the least cost without having to lock into a long-term contract. For a flourishing small business, a long-term contract can quickly become a liability.
After all, if everything goes as planned your business will expand and you will outgrow your current space in just a few years. However, if your business doesn't grow, it's also nice to know that you can remain in your current space for as long as you need to. So what's a small business supposed to do?
Lease-renewal options are a great tool for small business owners and landlords alike. If done right, a lease-renewal option can provide a steady stream of income for the landlord while at the same time giving the small business owner options based on the space requirements of his growing business.
Here's how it works: When the original lease is negotiated, both parties agree to a clause that gives the tenant the ability to renew the lease at specific, short-term intervals. For example, instead of agreeing to a ten year lease, the tenant and the landlord may agree to a two-year lease with four lease renewal options at two year intervals.
The total length of the relationship is still ten years. The only difference is that the tenant has the ability to relocate at certain points during those ten years based on his business' space requirements.
In exchange for the added flexibility the renewal option provides the business owner, increases are usually factored into the renewal option upfront, raising the price of the space as each option is exercised. This might not sound like a good deal for the business owner, but it is.
By negotiating increases in advance, you avoid having to renegotiate the lease at market prices every two years. Nine times out of ten, a pre-negotiated rental price will beat the prevailing market price, resulting in savings for you and security for your landlord.
Some landlords are hesitant to agree to a lease renewal option because it limits their ability to plan for new tenants and leverage market increases. If you encounter this line of thinking, your best bet is to encourage the landlord to factor in the cost of vacant space and marketing efforts.
Although it's possible they will incur these costs anyway (i.e. if you choose not to renew the lease), there's also a good possibility that they will be cashing your checks - in increasing amounts - for years to come.
Share this article
---
Additional Resources for Entrepreneurs