Small Business Legal Issues
Legal Checklist for E-Commerce
Is your business properly addressing key legal issues pertaining to electronic commerce? This e-commerce legal checklist is a must for every business that sells online.
What happens in cyberspace doesn't stay in cyberspace. Instead, a lot of what goes on in cyberspace ends up being discussed in the courtroom.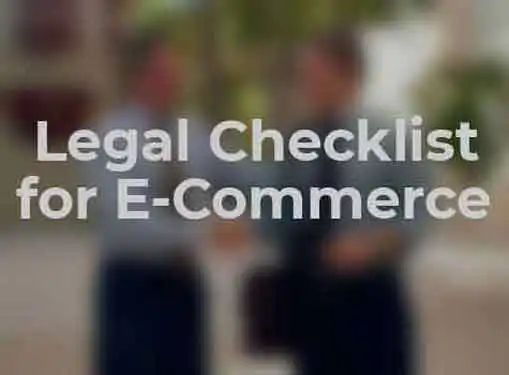 Make sure your business is on top of the new legal issues associated with electronic commerce. This list of questions will quickly let you know whether you've got it all under control or whether it might be time to call a good lawyer.
Is your business protected by basic terms of use on its websites?
Internet exchanges of information and communications occur in cyberspace, but they may have real, tangible consequences in the physical world. Website activities or information may be the basis for a damages claim against a company. Similarly, a company may wish to restrict what a user does with information obtained from a corporate website. Although a great advantage of an Internet website is that it can be browsed and used from virtually anywhere in the world, and extend your corporate presence into many more territories, there have now been numerous cases regarding the extent to which a company's website activities mean it can be sued in other states. These cases establish that conducting business through the Internet can subject a company to the jurisdiction of the courts of another state or country. For example, a business based in Illinois or Ohio -- or even France or Japan -- possibly can be sued in California based upon its website uses.
The courts have begun to issue decisions regarding the validity and enforceability of so-called "clickwrap agreements," which are the Internet equivalent of "shrinkwrap agreements" sealed in packages for consumer and software products. The available cases suggest that the courts often will enforce reasonable website terms and conditions. Generally, the more prominent the terms, and the more express indication of user approval of such terms is required to advance into the website from the home page, then the more likely it is that such terms will be enforced against the user.
Given the above, a corporate website should provide for basic terms of use, including favorable linking, information usage, disclaimer, liability limitation, dispute resolution and forum selection provisions. In particular, a business should arrange for any parent company's website to have such protections to ensure that a complete strategy is implemented.
Does your business sell goods, services or information online?
Conducting definitive transactions online, through a more "active" website, presents legal concerns beyond those of simply posting background or marketing information on a relatively "passive" or "brochureware" website. For example, a few of the issues to address for online sales activities are:
Cookies. The downloading of temporary or permanent files, commonly referred to as "cookies," to a user's system may facilitate transactions, such as by remembering user preferences. However, altering a user's system without permission may constitute an illegal invasion or trespass to the user's property. User permission for the use of cookies should be obtained.
Data security. A transaction may require a user to transmit sensitive financial or other information through the Internet. Appropriate data encryption and other security measures should be implemented to prevent the negligent disclosure of a user's private data. Also, an acknowledgment of the risks regarding such transmission should be obtained from a user.
Illustrations. As with catalogs and brochures, actual goods often vary in appearance or fabrication from those depicted by illustrations, photographs and other depictions. A disclaimer to this effect should be used in connection with such graphic materials online.
Restricted territories. The Internet allows access to markets on a worldwide basis. However, certain products may not be suitable for particular jurisdictions, whether because of different operating environments, legal requirements, export controls or other factors. For instance, power and lawn-and-garden tools in California must meet more stringent emissions and warning standards than elsewhere in the United States. Similarly, electrical equipment may be subject to different energy efficiency requirements in different countries. Such considerations should be disclosed to users and safeguards to prevent improper shipments should be implemented.
Online sales of goods, services and information should be evaluated carefully for these and other legal matters.
Is your business properly collecting, handling and using data regarding persons who browse or use your website?
One of the most distinctive aspects of the Internet is the ability to monitor the browsing activities, patterns and habits of website users, individually and in the aggregate. Furthermore, new online services often involve the delivery of sensitive personal financial and other information to the merchant. This data, individually and in the aggregate, may be very valuable for marketing and other purposes. However, the privacy, commercial use or disclosure to third parties of such data is very controversial. Governmental authorities constantly are considering the need for more specific legislation or regulations regarding the use, distribution and protection of data about website users. Except with respect to the financial, medical, insurance and child-product sectors, there generally are no privacy legal requirements in effect. Nonetheless, many businesses choose to follow voluntary privacy policies or request affirmative user authorization for the use of online data. In any event, every business should evaluate its approach to the privacy and use of user data. At a minimum, a business website should provide for the collection and distribution of user data in its terms and conditions and should comply with any statements or promises set forth in its websites.
Has your business addressed online marketing and sales in its arrangements with distributors, dealers or sales representatives?
The ability of businesses to conduct business online has created a range of issues for distribution and sales relationships. The ease with which both suppliers and distributors can establish website storefronts complicates allocating territorial or exclusivity rights between supplier and distributor, as well as between distributors. Similarly, a supplier may wish to increase its contact with end users, such as for after-sale matters, in order to gain valuable market data. Alternatively, major original equipment manufacturer may want its suppliers and distributors to participate in supply-chain or electronic marketplace mechanisms to increase operating efficiency. Thus, every business should evaluate the need to modify its existing supply, marketing and sales agreements or arrangements to address electronic commerce considerations
Share this article
---
Additional Resources for Entrepreneurs