Operations Management
Level Scheduling Versus Chase Scheduling
Written by Andrew Goldman for Gaebler Ventures
How you schedule your workforce can have a major impact on your profitability. Two methods of labor force scheduling are discussed in this article.
When it comes to scheduling your labor force, there are two primary ways to schedule.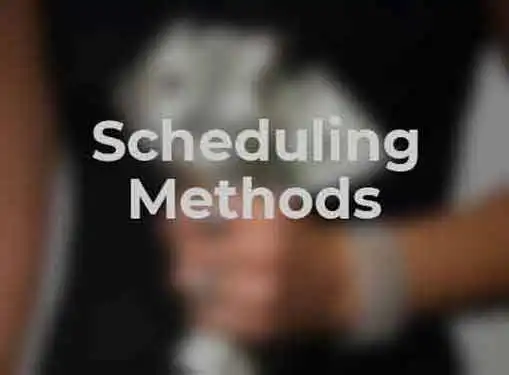 The first is called level scheduling, where you try and maintain a steady workforce with a steady schedule.
The second is the chase strategy, where you maintain a level workforce and increase your workforce as demand increases. This may mean using overtime or hiring temporary employees.
The type of labor-scheduling you wish to incorporate can be dependent on your demand cycle.
If you have very consistent demand with no real seasonality or fluctuations, you can typically use the level scheduling technique. This has benefits to the employees, where they know what their hours will be and they know what to expect. In addition, level scheduling is easier to compute and it does not require bringing in temps or using a lot of overtime.
If your demand is fickle, you may find the chase strategy easier to incorporate. From my consulting experience, I've found the most cost-effective means for chase scheduling is to use part-time labor for seasonal peaks and temporary labor for out-of-season abnormal peaks. Depending upon your business and cost-structure you can find a combination that works best for you. It's important to remember that the skill involved in your production process plays a key role. If there is a lot of technical knowledge needed, than hiring a temp for a day may not be practical.
In general, you should try to avoid using a lot of overtime. Overtime can strain your workforce and is costly. It is typically the fastest way to meet a fluctuation in demand, but if you have a lot of fluctuations, you should seek other alternatives.
Be careful if overtime has become part of your company culture. If employees expect overtime and include it as part of their salary, they will be more apt to stretch work out to reach overtime. In addition, you might meet some resistance when you make efforts to eliminate or reduce overtime. Employees may bite back because their paychecks will dwindle. There's no easy answer to this problem, but it should be addressed.
Even in an industry with fickle demand a level-schedule can be utilized. It requires working more during slow times to build up inventories to meet the busier months' demand. This strategy has its added costs, as storing inventory is costly. Make sure you've fully analyzed and compared the costs of both options before implementing this technique.
A hybrid method can also be used, where a combination of Level-scheduling and Chase-scheduling can be utilized. The idea here is that a level schedule is used during consistent periods and the chase strategy is used during months with fluctuating demand.
This can be helpful in seasonal business. For example, a company that made Halloween chocolates, may maintain a level schedule for 9 months of the year and then use a chase strategy during the weeks leading up to Halloween. This hybrid method can be extremely useful in the right setting.
Andrew Goldman is an Isenberg School of Management MBA student at the University of Massachusetts Amherst. He has extensive experience working with small businesses on a consulting basis.
Share this article
---
Additional Resources for Entrepreneurs