Business Strategy
Low-Cost Leadership Strategy
Written by Angela Ly for Gaebler Ventures
So you want to compete on price. How do you get your business ready for this? We provide some tips in this article.
We know that adopting the low-cost leadership strategy is not viable for every business.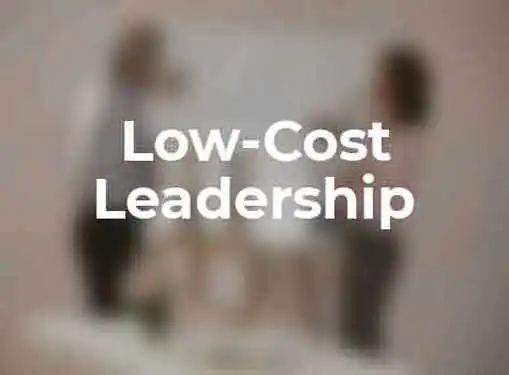 It is difficult to keep up with fierce competition, and you hope that you never get trapped in a dilemma between low costs and good quality. If you have determined to go for this approach, then here are some tips on how you can make this strategy work for your business.
1. Look at your existing technological capabilities
Being a low cost provider requires plenty of flexibility in product manufacturing. You need to be able to respond quickly to shifts in market dynamics. Therefore, you cannot afford to maintain expensive equipment designed to manufacture specific products. Sell off such equipment or unnecessary components. Invest your capital in other technology areas such as coming up with innovative techniques for cost reduction.
2. Evaluate your product
Look at your existing product, and determine whether your targeted market segment really needs its existing attributes. Often, price-sensitive customers want products that fulfil their promise of delivering one result. The other add-ons, which are costing you and also the customer, are not needed. Think simple.
3. Find cheaper materials
We are like to have many choices on the materials available for use in products. Expensive materials don't necessarily mean good quality, while lower prices don't always equate to inferior quality. Never compromise on quality. It pays to do your research and test some inexpensive available materials for usage in your products. In the long run, your business becomes more cost-effective, and thus in a better position to continue your low-cost leadership strategy.
4. Don't spend millions on advertising
Your price tag already garners attention from consumers. You don't need to spend huge amounts of money on marketing to create more hype for your brand. I am not suggesting that you cut out marketing totally, but that you spend only on what's definitely going to benefit your sales. For example, reach out to your customers by providing samples of your new and improved product, emphasizing the attractive price, and give a few clues on how you manage to offer this price.
People are wary of things that seem inexpensive yet claim to be of good quality. It is thus important to communicate to them that you have implemented a new production process that allows production costs to be cut, for example. They want to believe you, and you need to provide information to back your business up.
Your position as a low cost provider gets stronger as you build up your business' cost effectiveness. I talked about evaluating your technological capabilities in the first point, because I believe that external factors are susceptible to changes, and these changes can come on suddenly, such as a price hike from raw material suppliers. Therefore, maintaining internal efficiency is the most important way of achieving cost effectiveness for your business.
Angela is currently an MBA student at Nanyang Technological University in Singapore. Ms. Ly is looking to specialise in Finance, and has an interest in exploring topics in entrepreneurship and strategies for small businesses.
Share this article
---
Additional Resources for Entrepreneurs