National TV Spots
Costs of Advertising on Television
Think television commercial prices make it impossible for you to advertise on TV? Think again. Costs for a television commercial can vary widely based on your interest in local, regional or national coverage. It turns out some television advertising costs are quite reasonable. Cable television advertising prices, in particular, offer excellent value for money. In this article, we discuss how much it costs to make TV commercials and how much it costs to run TV ads after you've done the production work.
Running national TV spots can be an effective way to launch a national brand.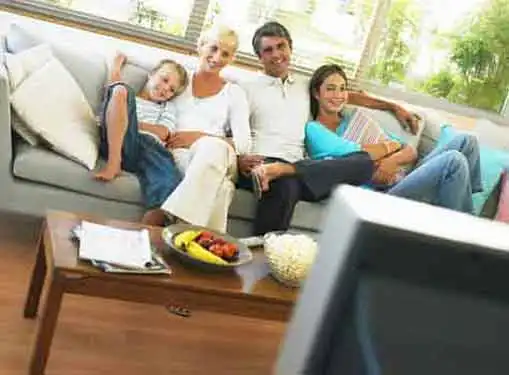 If your product or service is of interest to many potential buyers, national television advertising is the best way to tell your story to a large audience in an efficient manner.
Wondering how much to budget for a television advertising campaign? We cover the costs of advertising below -- including cable television advertising prices and broadcast network television prices. More importantly, we teach you the best ways to do it on the cheap.
Making a Television Commercial - How Much Does It Cost?
If you ask somebody "What does it cost to make a television commercial?" you probably have heard that producing a single 30-second television commercial costs on average around $400,000. Maybe you heard that making a TV ad costs $250,000. Whatever. It's a bunch of baloney. Producing a TV commercial doesn't have to cost an arm and a leg. You can make a good TV commercial for a couple of thousand dollars. Shop around for an affordable advertising firm and you'll find some really good deals on television ads.
To keep the costs of advertising on television within your budget, you can find stock video footage that can be repurposed for your commercials. Visit http://www.thoughtequity.com, for example, and you'll see that there's a growing industry of video clips for sale and they even have gone so far as to let you recycle old television commercials that have been used by other advertisers. Nice!
Another good site to look at is http://www.spotrunner.com/. You can purchase a pre-packaged ad from their ad library for less than $500. Spot Runner rewrites and records custom voice overs for any of its ads for $249. So, for less than $800 you can make a TV commercial!
It's also a good idea to find a local video production company. Hiring an advertising agency will get you into higher dollar amounts for your TV ads, but a local video production company can do great work at very reasonable prices. We know one travel business in Chicago that gets its commercials done for $300. Of course, their TV commercials are very simple, but it works for them.
Running Television Commercials - How Much Does It Cost?
When we hear that a half-minute Super Bowl television commercial costs $2.4 million, it's pretty intimidating. ABC, CBS and NBC book nearly $10 billion a year in TV ad revenues. National TV spots on the final summer "Survivor" episode sold for $1 million. National TV spots on "Millionaire" sold for $750,000. National TV spots on final "Seinfeld" sold for $2 million each. All these big numbers scare many small businesses away from advertising on TV.
In reality you can put together television advertising programs that reach your target markets for much less money than you might expect. For example, you can broadcast your commercial on local cable stations for about $50 per spot. Pricing is based on time of day, what shows your TV ad runs with, the size of the viewing audience and things like that -- there's also a fair bit of negotiation involved. Don't forget that you also can choose how long your TV commercial is -- there are 15-second TV spots, 30-second TV spots and 60-second TV spots.
With Spot Runner, mentioned above, they have a nice proprietary media planning engine that creates customized media plans. You can target customers by demographics, networks and specific neighborhoods. You can buy primetime ad space on major networks, local broadcast and cable channels such as CNN, Bravo, ESPN and HGTV. Depending on the market, the average cost per TV spot ranges from $13 to $63. Amazingly, you can reach 80,000 households more than 200 times for less than $10,000. That's just over half a penny per impression!
National TV spots will cost more money. It's not a bad idea to create a virtual national TV spot by hooking up with many local cable channels or advertising locally on national cable channels. But if you have to buy commercials on a national network, you can still get some good bargains on national TV spots. Just keep asking the sales rep this question: How can I advertise on TV for less money?
The Basics of Advertising on Television
Like all good marketing, it's best if your national TV commercials communicate what you are offering and why it's of value to the viewer. Be direct in describing what you do and let the television commercial reinforce your brand's positioning and essence. Needless to say, it's also great to include a call to action of some kind.
There's an art to making a television commercial. Good television advertising combines action, motion and intrigue to attract attention and sustain interest. As you probably know if you watch television, the best television advertisements use a storytelling technique, both for entertainment value and to make a point. Before you run a television advertising campaign, run your commercials by some of your prospects and make sure that the ads are effective. No sense wasting money on TV ads that don't work!
Don't be stingy buying television time. Television advertising results aren't immediate. If you run a single ad, you won't see a boost in sales. After all, repetition is the mother of learning.
Good luck with your TV ad campaigns. If you pick up any good information on television advertising that you'd like to share with others, please send it our way. Thanks!
Share this article
---
Additional Resources for Entrepreneurs