Negotiations
Negotiation Etiquette
There's an etiquette and a cadence to negotiations that is well known to experienced negotiators. Here are a few common courtesies of negotiation that are widely accepted.
All's fair in love and war, but when it comes to business it's important to understand basic negotiation etiquette.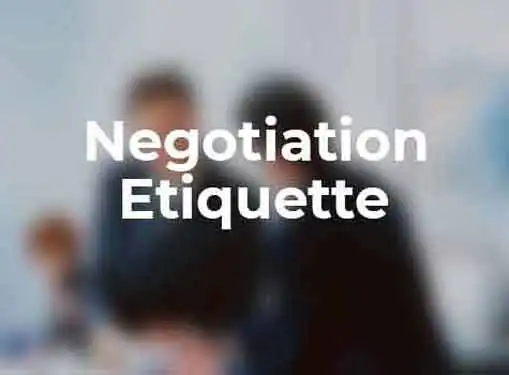 Although there are no formal guidelines for negotiating, there is a generally accepted set of rules about negotiation etiquette that is designed to maintain civility and equity throughout the process.
J. Paul Getty said, "You must never try to make all the money that's in a deal. Let the other fellow make some money too, because if you have a reputation for always making all the money, you won't have many deals." Good negotiation etiquette fosters mutual respect and results in a win-win deal. But as Getty points out, it also ensures that the other party will be willing to negotiate with you again in the future.
Non-confrontational attitude. A negotiation shouldn't be seen as a confrontation. Both parties can be expected to advocate strongly for their positions, but the goal isn't a one-sided victory - it's a win-win outcome in which each party gains something from the relationship.
Advance notice. Ambush-style negotiations are unnecessary and generally not appreciated by the professional business community. Establish the time and details of the negotiation in advance to give both parties an opportunity to prepare.
Clearly communicate your needs. It's frustrating to negotiate with someone who is unwilling to clearly communicate what they need to get out of the relationship. Keeping your cards close to your chest is one thing; refusing to talk about your needs and interests is just rude.
Be fair. Inflexibility is not an attractive negotiation strategy. If you enter negotiations with a rigid that refuses compromise, you'll quickly irritate your negotiating partner and sabotage the entire process. Know your bottom line position, but be open to conversation and alternative outcomes.
Be attentive. Sometimes negotiators can be very good at talking about what they want, but completely drop the ball when it comes to listening to what the other person wants to gain from the relationship. Good negotiators are excellent listeners who provide ample opportunities for their negotiating partners to express their ideas and concerns.
End gracefully. Regardless of whether or not the negotiation ends successfully, it's importantly to end gracefully. If possible, try to mitigate any hard feelings and leave the door open for either further negotiations or future business opportunities with the other person.
Share this article
---
Additional Resources for Entrepreneurs