Franchising News
It's Not Your Imagination: The Fast Food Drive Thru Is Getting Slower
Written by Tim Morral
Published: 10/8/2013
Industry performance study shows that expanded menu items and other factors are causing service delays at fast food restaurants' drive-thru windows.
Fast food is built on the concept of serving up decent quality food as quickly as possible. For decades, fast food restaurants have gone to great lengths to improve the speed and efficiency of their delivery systems -- including the ever-popular drive-thru window.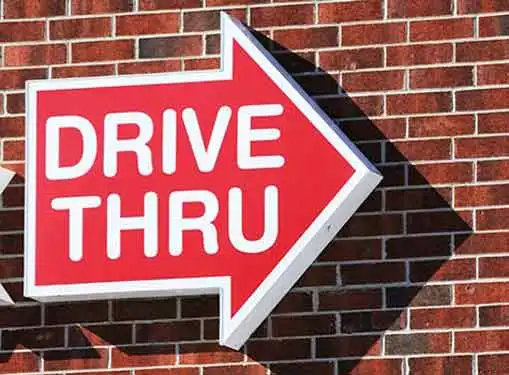 But changing consumer preferences may be behind an emerging trend in fast food. Across the QSR industry, fast food restaurants are reporting slower delivery times and delays at their drive-thru windows, causing some to question whether speed is still fast food's number one concern.
In a Drive-Thru Performance study conducted by QSR, leading fast food brands reported significantly slower delivery times at drive-thru windows. Among the study's benchmark group of brands, McDonald's reported its slowest average speed of service in the history of the study at 189.49 seconds. Chick-fil-A (203.88 seconds), Krystal's (217.89) and other brands reported similar declines, with delivery times that are the slowest that have been reported in more than a decade.
The primary factor behind slower drive-thru service times appears to be the increasing complexity of fast food menus. While quick-serve restaurants once focused on simple sandwiches and sides, today's fast food industry is dominated by customized menu offerings and dishes that require additional prep time.
"We knew going into this year's Study that speed-of-service times seemed to have plateaued over the last few years, but we did not really expect to see the nearly across-the-board increases in service times that were apparent," says Brian Baker, president of Insula Research -- the firm that compiled the QSR study. "One explanation for longer service times could be a more complex menu for operators to deal with, as many restaurants have introduced more healthy options that in some cases could take longer to prepare."
Learning how to improve customer service is an important priority for all brands. For fast food restaurants, longer drive-thru delivery times reflect an attempt to rebalance customer service against consumer menu preferences and marketplace trends. Although speed is still an important industry benchmark, it may not be as important as it used to be -- at least in relation to the diversity of menu items we're seeing at our favorite fast food eateries.
Share this article
---
About Our Entrepreneur News
Our entrepreneur news feed is packed with breaking news for business owners. Find helpful entrepreneur resources about small business management, financing, marketing & technology.
---
Additional Resources for Entrepreneurs