Franchising News
McDonald's Aims To Turn Brand, Profits Around
Written by Tim Morral
Published: 10/30/2014
McDonald's is revamping several key areas of its business in an effort to improve food quality perception and drive foot traffic.
After posting its worst month comparable sales decline in the U.S. and Europe with a 30 percent drop in third-quarter profits, McDonald's is on a mission to turn around its company. As the largest hamburger chain in the world, McDonald's cited decreasing guest traffic and an increasingly competitive marketplace as the root causes for the performance hit in its Q3 report.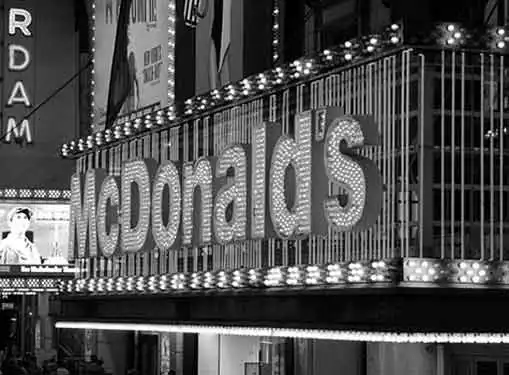 According to analysis and reporting by the Motley Fool, McDonald's dominates the U.S. fast-food industry in market share and has more than 35,000 franchised and company-owned restaurants. Despite this success, the chain is struggling as customers become more health conscious and favor high-quality, natural food choices. Fast-casual restaurant and coffee chains like Chipotle, Panera Bread and Starbucks are capitalizing on this trend.
To address these pressures, McDonald's is launching new burger concepts, marketing campaigns and a pared down menu in several locations across the U.S. Crain's Chicago Business covered the expansion of McDonald's build-your-own premium burger program, which aims to boost average check sizes and profitability. The new program, which has been tested in some markets, also incorporates technology upgrades, including self-service touch screens and credit card payment machines.
The new marketing campaigns emphasize the quality of McDonald's food and its ingredients. Its social media campaign, "Our Food. Your Questions," features answers to crowd-sourced questions via Facebook, Twitter and YouTube. These include questions such as, "Is McDonald's beef real?" and "Why doesn't your food rot?"
As a result of the pared down menus rolling out to the U.S. in January, franchisees will gain more autonomy at the local level, including the ability to tailor menus based on customer preferences in their region. For franchisees, these are important considerations when assessing McDonald's fast food franchise opportunities.
Share this article
---
About Our Small Business News
Our entrepreneur news feed is packed with the latest news for small business startups and entrepreneurs. Find helpful entrepreneur resources about small business management, financing, marketing & technology.
---
Additional Resources for Entrepreneurs