Small Business Finance News
Google AdSense Helps Fund Small Businesses, Including Ours
Written by Tim Morral
Published: 12/24/2013
Happy holidays! As 2013 draws to a close, we want to thank the folks at Google for AdSense. Read this article to learn what AdSense has allowed us to do...on this site and elsewhere.
Today is a big day for this site. We passed the $1.3 million mark for cumulative Google AdSense revenues.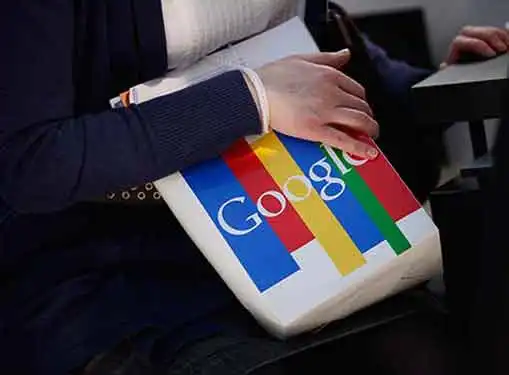 This is a notable milestone. Without Google AdSense, many people I employ today would not have jobs, as I will explain shortly.
Long ago, I decided to use the gaebler.com site to provide helpful resources for entrepreneurs and small business owners. It was just a hobby. I would write articles in the evenings and weekends and add them to the website.
When a good friend told me that I could monetize my content with Google AdSense, I decided to give it a try.
For those who do not know, AdSense is Google's way of allowing advertisers to get their promotions in front of audiences visiting websites that are not owned by Google.
It was a particularly brilliant invention because a site like mine could simply add a few lines of code to display the Google ads. Super easy! More importantly, the ads that site visitors would see on a given web page were context-based, meaning they were relevant to the content on the page.
For example, if you owned a business in Chicago and searched for "how to find a good bookkeeper" you might find an article on that topic on my site -- and you would likely see Google ads promoting local Chicago bookkeeping services. If you clicked on one of the ads, the bookkeeping service would pay Google a small fee, and, in turn, Google would give this site a small cut of the fee.
Each click would only earn my site a very small amount, but if you could get decent traffic to your site, the revenues added up -- earning me $150 in my first month with AdSense.
Not a fortune by any means but this was a nice little bonus to support my hobby of writing articles to help entrepreneurs.
I never thought it would amount to much, but as I continued to add content to the site, the AdSense revenues grew.
I said to my wife "I think this site could cover our mortgage one day," and sure enough it wasn't long before my monthly revenues exceeded the mortgage payment on our home. To have your hobby pay for your mortgage -- that is a truly great thing.
I realized that by getting more traffic to my site, I could increase the revenues even more. So I worked harder to add more resources to the website.
By 2009, amazingly, this site was regularly earning $20,000 per month, peaking at just over $26,000 in January 2011. On top of that, I was earning money from other online advertising platforms, such as Bizo, Commission Junction and Kontera.
Mind you, this was a low-overhead operation. I created the vast majority of the content, with just a little help from writers I would hire or from paid interns who would help out.
Every entrepreneur seeks the proverbial cash machine -- an entrepreneurial venture that kicks out cash day after day even when you are not working -- and this was close to that holy grail.
It probably sounds like I was making a ton of money, but the reality is that I was using the earnings from the gaebler.com site to fund my fledgling marketing business, Walker Sands.
Much of the money from Google subsidized the salaries of Walker Sands' first employees when the business was ramping up and not yet profitable. We lost money for a few years before we figured things out. The Google AdSense income allowed us to survive our mistakes. Without the AdSense revenues, I would likely have shut down Walker Sands and found a regular job. That bears repeating: our ability to keep Walker Sands up and running in those ramp-up years was a direct result of Google AdSense -- and any goodness that has come from Walker Sands' existence has Google to thank for it.
Today, Walker Sands employs many people and has over $4 million in revenues. It is a stable business, is profitable and has been now for a good long while. I credit that success to a lot of things. But I want to publicly thank the people at Google who made it all possible (Thank you, Google!).
Entrepreneurs are always looking for ways to fund their startups. If you are not lucky enough to have a rich uncle, you have to get creative...or get lucky. I was lucky enough to partner with Google in a way that was win-win-win for everyone -- good for Google, good for Google's advertisers, good for the customers of Google's advertisers and good for my business.
It's easy to conclude that Google AdSense was simply a source of funding for my business but I prefer to think about the results of that funding. Doing so tells a more interesting story in which Google AdSense delivered much more than mere money.
Walker Sands has provided jobs for many people over the years. Our employees earn a good living and spend that money, which drives economic growth. The healthcare we provide has kept people healthy. We have a crop of babies on the way, who will be birthed and fed with profits from the company. The good work we have done for our marketing clients has had similar results at those companies, allowing them to grow and hire more people.
Rent, food, first jobs out of college, cars, homes, babies, college tuitions, job promotions, holiday gifts, dinners out, new outfits, doctors' bills, IPOs, acquisitions and more -- it would not have happened if I had not discovered Google AdSense and been able to use that money to get Walker Sands through those fledgling early years that many small businesses do not survive.
Of course, with Google, it is live by the sword, die by the sword. In February 2011, with the advent of the infamous "Panda" update as it is called in SEO circles, Google altered its algorithm in fundamental way that mortally wounded the gaebler.com site in terms of search engine traffic.
When your pages drop from a #1 ranking in Google for a given phrase to a #4 ranking, or from a #2 ranking to a #6 ranking, traffic drops considerably. These small drops in the search results add up. We lost most of our visitors and learned a painful lesson -- that we had been overly reliant on transient search engine traffic and had neglected building up a community of loyal users and a strong brand that could thrive even without search engine traffic.
It was a good run while it lasted. While I would love to spend all my time on the site and figure out new and innovative ways to help entrepreneurs, the site no longer generates the revenues that would fund that effort. The site desperately needs a redesign, but, with the dramatic fall in AdSense revenues, I need to focus my efforts elsewhere for now. Instead of working extensively on this site, I spend my time on Walker Sands now -- with hopes that one day I will be able to get back to my hobby site and help more entrepreneurs in the process.
The days of being able to fund a business with Google AdSense are mostly gone. But even if you do not have a rich uncle to back you, there are still creative ways to fund startup ventures. Keep looking and you will find them.
Share this article
---
About Our News for Entrepreneurs
Our reporters cover all aspects of entrepreneurship. Our coverage is dedicated to helping you to start and grow your business.
---
Additional Resources for Entrepreneurs