Small Business Finance News
Small Business Owner Financial Optimism On The Rise
Written by Tim Morral
Published: 8/14/2014
Although it's still below the optimism levels reported before the Great Recession in 2008, small business owner optimism is on the rise.
According to the recently released Wells Fargo/Gallup Small Business Index, small business owners reported the highest level of optimism recorded in the past six years.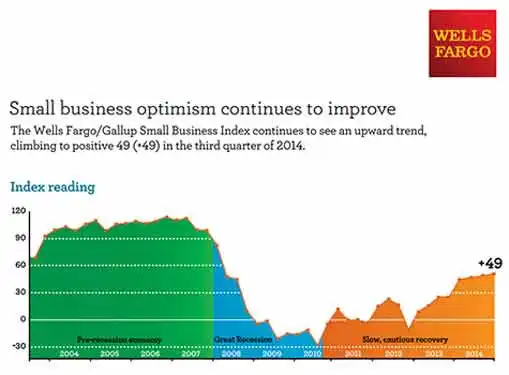 As the economy continues to recover from the recession that began in 2008, it's nice to see that business owners are optimistic. However, the Wells Fargo optimism index is still about half what it was before the recession, and small business owners say their outlook for next year hasn't improved since the last time Wells Fargo surveyed them.
The quarterly small business survey was conducted July 7-11 and showed that the overall Small Business Index score increased slightly to positive 49 in July, which is up up two points from April. The score measures small business optimism and has increased in six of the last seven quarters.
"The latest Index scores show small businesses have made gradual progress since the economic downturn. With modest improvement in the economy, healthier small businesses are growing revenue and have stronger cash flow today," Lisa Stevens, head of Small Business for Wells Fargo told Digital Journal.
There are several drivers behind the rising optimism level. One factor is that small business owners are more positive about their last 12 months of revenues--43 percent report that their company's revenues increased in the last 12 months, compared with 36 percent last quarter. The report also shows that 55 percent of owners report a very or somewhat good cash flow over the past 12 months. That's up five percent from last quarter.
Small business owners also said they believe the ease of obtaining a credit line has increased over the past year with 32 percent of small business owners saying it has been very or somewhat easy to obtain credit in the past 12 months. That number rises to 38 percent of small business owners who expect that credit will be very or somewhat easy to obtain in the next 12 months.
"However, we know many businesses still face challenges in the marketplace and it's reflected in the survey results," Stevens said. "Many continue to wait for more improvement in their businesses and the economy before they express confidence in the year ahead."
The biggest challenge most small business owners face is getting noticed through their marketing and advertisements, followed by competition, corporations and the Internet. A few other challenges business owners identified were government regulations, money to invest in improving and running their business, and updating and improving their products.
Although it's occurring slowly, rising levels of optimism in small business owners is good news. It will be interesting to see how small business owners continue to gage their financial perceptions and if their predictions for the future of the U.S. economy become reality.
Share this article
---
About Our News for Small Businesses
If you liked this small business news article, you can find plenty more like it on our site. We cover the latest news stories for entrepreneurs. In addition to breaking news for entrepreneurs, we also have tons of helpful articles that cover topics like getting business loans, preparing a marketing plan, getting publicity and much more.
---
Additional Resources for Entrepreneurs