Small Business Startup News
Food Trucks Becoming Increasingly Popular With Consumers And Aspiring Restaurateurs
Written by Tim Morral
Published: 9/16/2013
National Restaurant Associations says that 19 percent of fast casual restaurants are either very or somewhat likely to launch a food truck in the next two years.
The food truck concept is one of the fastest growing trends in food service. Inspired by the culinary diversity that exists across the food truck industry, thousands of aspiring restaurant owners are jumping on the mobile food service bandwagon--launching operations at a fraction of the cost it would take to start a traditional restaurant.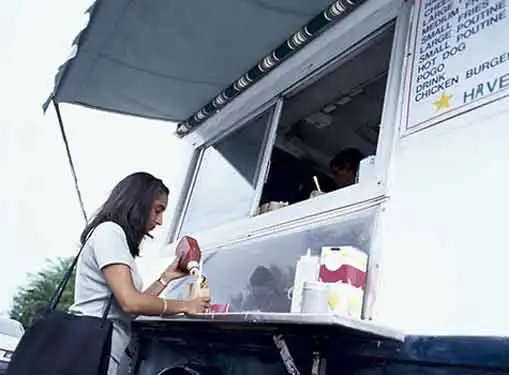 And first-time restaurateurs aren't the only ones who are looking to cash in on food truck trends. According the National Restaurant Association (NRA), 19 percent of fast casual restaurants say that they are likely to launch a food truck within the next two years.
But whether you're an established food service business owner or an aspiring restaurateur, the NRA offers several tips to help get your food truck off to a strong start.
Understand the risks. Food trucks create a new set of opportunities and challenges. Bad weather, mechanical breakdowns and other events can jeopardize your profitability, so it's important to have a clear understanding of the risks before you invest.
Research laws and regulations. Food trucks are subject to zoning and regulations that are different for each municipality. Research the permit requirements and laws in your area as part of the planning process.
Focus on a limited menu. There isn't much space for food prep and storage in a typical food truck, so you'll want to focus on a limited menu that allows you to quickly serve up a small selection of high quality dishes to your customers.
Consider a trailer. Pull-behind trailers are less expensive than food trucks and have fewer liability issues. If it's viable, you might want to think about housing your operation in a trailer rather than customizing a motorized vehicle.
Leverage stationary space. If you have a brick-and-mortar establishment, use it to do prep work and other activities that are difficult to perform in a truck. If you don't have a brick-and-mortar restaurant, consider doing prep work from your home or an area that meets food safety requirements.
Many would-be restaurant owners use their food trucks as stepping stones to starting a restaurant. Although many of the initial requirements are the same, future restaurant owners should incorporate the idea of eventually owning a brick-and-mortar establishment into their food truck business plan.
Share this article
---
About Our News for Entrepreneurs
If you enjoyed this article, you can find other breaking news for entrepreneurs on our site. We cover current news stories for entrepreneurs. In addition to breaking news for entrepreneurs, we also have tons of how-to articles that cover common small business challenges like obtaining venture capital, preparing a marketing plan, working with family members and much more.
---
Additional Resources for Entrepreneurs