Small Business Startup News
Measuring The Lunch Market
Written by Tim Morral
Published: 10/3/2013
Visa study shows that the average U.S. consumer spends $1,000 per year to dine out for lunch; South leads the nation in weekly lunch purchases.
Many restaurants and food carts depend on the lunch crowd for a large portion of their daily sales. Without vibrant lunch hour traffic, it would be impossible for these food service operations to keep the lights on, let alone turn a profit.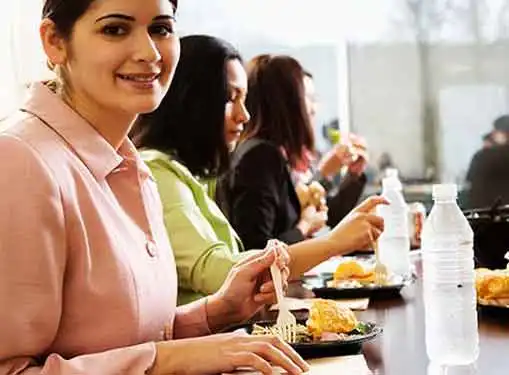 A new study by Visa measures the strength of lunchtime dining in the U.S. In a report posted on FastCasual.com, the Visa study revealed that the average U.S. consumer dines out for lunch twice a week and spends approximately $10 on each dining experience. Average annual expenditures for lunchtime dining total $936 per person.
At the high end of the marketplace, 1 percent of consumers spend more than $50 per lunch for a total of $5,000 per year. However, 30 percent of consumers said they never dine out for lunch.
Key findings from the study include:
Individuals who earn less than $25k per year spend more than any other income bracket, dropping an average of $11.70 per meal.
Higher income earners (more than $50k per year) spend just $9.60 per lunch meal.
Consumers in the South lead the country in lunchtime purchases. With an average of two restaurant visits per week, Southerners spend an average of $10 on each meal.
In contrast to Southerners, Northerners are the least likely to dine out for lunch. But although they only visit lunch restaurants 1.5 times per week, they spend $11.40 on each event.
Most restaurateurs understand the importance of market research. But the Visa study underscores the value of understanding the market in your geographic region. Although the differences may seem minimal, they could significantly impact the restaurant's ability to turn a profit.
For example, Southerners spend approximately $3 more per week on lunchtime dining than Northerners. For a modest restaurant serving 500 lunch diners per week, this translates into nearly $80k in lost revenue opportunities per year for Northern lunch establishments, based solely on the restaurant's geographic location.
Share this article
---
About Our Small Business News
Our small business news site is packed with breaking news for small business startups and entrepreneurs. Find helpful entrepreneur resources about small business management, financing, marketing & technology.
---
Additional Resources for Entrepreneurs