Small Business Technology News
Have Tech Jobs Become Degree Optional?
Written by Tim Morral
Published: 4/22/2014
New York Times reports that almost half of the city's tech workers do not have college degrees, reflects larger trends in the technology job market.
Technology is one of the fastest growing sectors of the economy in New York and many other areas of the country, creating a broad range of opportunities for U.S. workers. But increasingly, the workers who are filling tech positions aren't coming from traditional university backgrounds. While some aspiring tech workers are pursuing focused 2-year degree programs, others are entering the tech sector without any formal college credentials.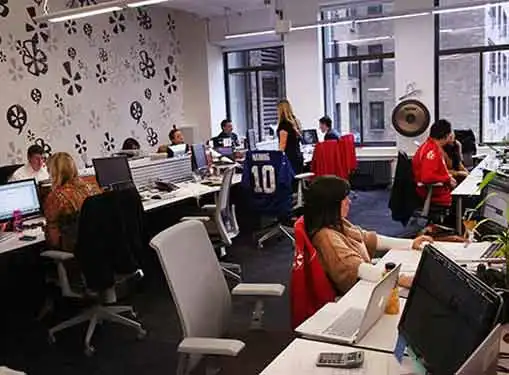 A recent article in The New York Times drew attention to the lack of college degrees in the NYC tech sector. Citing recent research, the report showed that 44% of the city's technology workers don't have college degrees.
New York City technology companies employ approximately 140,000 individuals; 150,000+ other individuals work tech jobs in non-technology companies. Despite the low requirements for college degrees, on average these positions pay 45% more than the city's typical hourly wage.
Although technology positions span a broad cross-section of job categories, programmers are in high demand. "There are more programming jobs than there are programmers right now," Avi Flombaum, dean of the Flatiron School, told The New York Times. The Flatiron School offers a 12-week program to train people in software coding, enabling them to enter technology positions without college training.
New York isn't alone when it comes to geographies where technology workers eschew traditional 4-year degree programs. The Columbus Ledger-Enquirer reported a spike in the number of people who are enrolling in 2-year degree programs to avoid the debt of a 4-year university education. Instead, these individuals are enrolling in specialized 2-year degree programs that often lead to more profitable job opportunities than the ones that are available to 4-year degree program graduates.
With cities and states aggressively competing for the attention of fast-growing technology firms, local governments are getting more involved in the creation of training opportunities for tech sector workers. In New York, the hope is that training opportunities will assist tech companies in recruiting the right personnel and ultimately lead to more employment opportunities for area residents.
"It's our job to develop the work force these fast-growing companies need so people from our schools and our neighborhoods have a real shot at these good-paying jobs," said Alicia Glen, New York City's deputy mayor for housing and economic development.
Share this article
---
About Our News for Entrepreneurs
Our entrepreneurial news is packed with breaking news for business owners. Find helpful entrepreneur resources about the latest business news and financial news concerning the market and the economy.
---
Additional Resources for Entrepreneurs