Small Business Technology News
Small Business Owners Are Staying Connected To The Workplace, Even During Summer Vacation
Written by Tim Morral
Published: 6/29/2012
Technology is enabling small business owners to work remotely and maintain an office presence while they are away on vacation, sometimes for as long as a month.
There was a time when small business owners refused to take a personal vacation because it required them to disconnect from the workplace. But rather than refusing their summer vacations, one in two small business owners is leveraging remote office technology to stay connected with the office.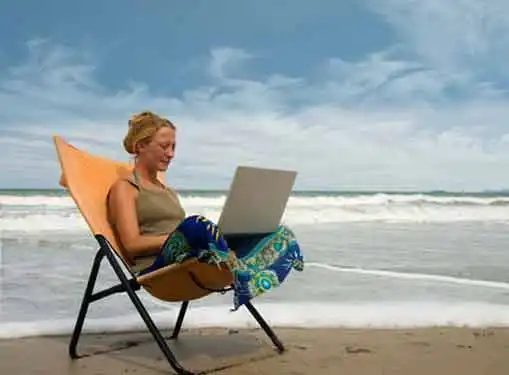 According to a new Cisco WebEx survey, small business owners plan to work remotely for an average of 18 days this summer. Technology has even advanced to the point that some small business owners (15 percent) plan to work remotely for 36 days or more, and half of small business owners will work remotely for at least two weeks.
"The results demonstrate the extent to which telephone and video conferencing have become ingrained in the work habits of small business owners, since nearly half of the survey respondents say traditional, in-person meetings are becoming less relevant," said Glenn Bray, senior director, Cloud Collaboration Applications Technology Group, Cisco.
"It's clear small business owners need to stay 'connected' to the office, even during the summer vacation season, and so we've given them the tools to not only meet, but also easily and efficiently manage content relevant for those meetings wherever they happen to be."
There are important telecommuting advantages for employers and many business owners are also encouraging the use of remote technologies among their employees. One in four small business owners (23 percent) report that their companies regularly utilize telecommuting, and 13 percent offer employees reimbursement for laptops, mobile phones and tablets.
Although the ability to take a vacation is nice, the driving force behind the rising adoption of remote work technologies appears to be convenience. Nearly a third of business owners say they appreciate year-round remote workplace opportunities because in-person meetings go longer than planned and a quarter of owners prefer to avoid the hassle of organizing attendees' schedules.
Share this article
---
About Our Entrepreneur News
Our entrepreneur news feed is packed with breaking news for small business startups and entrepreneurs. Learn about the latest business news and financial news concerning the market and the economy.
---
Additional Resources for Entrepreneurs