Small Business Technology News
Tech Becomes A Major Selling Point For New Cars
Written by Tim Morral
Published: 7/31/2015
A significant share of new car buyers identifies vehicle technology as a motivating factor in purchase decisions, leading manufacturers and dealers to rethink their approach to the marketplace.
When you bought your last car, did you ask the salesperson to describe the engine specs?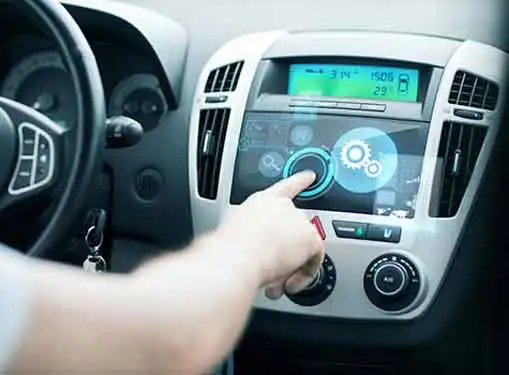 Probably not, since these days, consumers are more interested in practical features than they are about what's under the hood.
And according to recent research, in-vehicle technology is becoming a major factor in new car purchase decisions.
Car Buyers Care About In-Vehicle Technology
According to J.D. Power's 2015 U.S. Automotive Media and Marketing Report -- Summer Edition, new car buyers place a strong emphasis on the latest technology features.
Over 43 percent of luxury brand buyers and 28 percent of non-luxury brand buyers citing technology as a reason for purchasing.
The technologies that today's consumers are looking for go beyond mobile phone connectivity and navigation to include technologies for improved fuel economy, driving assistance, collision avoidance and safety.
Addicted to Technology: It's Not Just About the Car
The focus on vehicle technology comes at a time when consumers are interested in the integration of new technologies into their everyday lives.
In the report, researchers concluded that auto consumers don't just value technology in their cars -- they are embracing technology as part of their lifestyle.
Not surprisingly, the car buyers who want tech in their car tend to be more interested in technology than car buyers who don't value technology in their car:
For example, new car buyers who make purchases based on technology are more likely to access the Internet on tablets and smartphones than other consumers.
Likewise, technology-driven car buyers tend to consume more digital media, and count "The Walking Dead," "The Big Bang Theory," and "The Voice" among their favorite shows.
Selling to Today's Tech-Savvy Car Buyers
For manufacturers and dealers, the increased emphasis on technology features means taking a second look at how they market their products.
Going forward, it will be critical to not only highlight vehicle technologies in marketing and sales processes, but also to connect with audiences through consumers' preferred communication channels.
"It's important that auto manufacturers promote the technological virtues of their vehicles to consumers via the media they consume," said Arianne Walker, senior director, automotive media & marketing at J.D. Power. "Targeting these technology seekers with the right messaging is critical to using marketing dollars efficiently to reach consumers who will actually buy new vehicles because of new technology."
In many cases, this will require local dealers to become more adept at digital marketing activities that target local and regional consumers. By developing location-based mobile marketing campaigns that tout the technology features of their vehicles, dealers can improve their ability to influence car buyers in their local communities.
Share this article
---
About Our Business News for Entrepreneurs
Our entrepreneur news feed is packed with useful information for business owners. Find helpful entrepreneur resources about small business management, financing, marketing & technology.
---
Additional Resources for Entrepreneurs