Small Business Technology News
Thailand Floods Mean Higher Hard Drive Prices And Rising Small Business IT Costs
Written by Tim Morral
Published: 12/13/2011
Recent floods in Thailand have sharply cut the world's supply of disk drives, resulting in higher prices for PCs, external hard drives and other technology mainstays purchased frequently by small and mid-sized companies.
Who knew that nearly 40% of the world's computer hard drives are made in Thailand?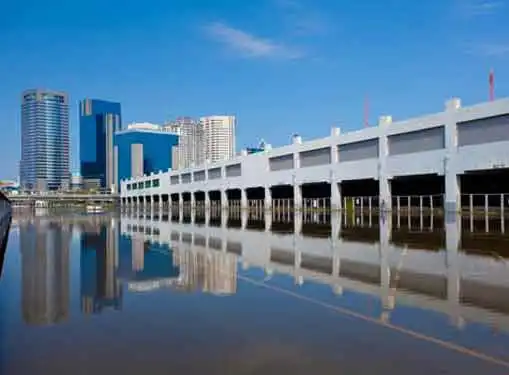 With hard drive production concentrated so heavily in one country, some might say that it was only a matter of time before a natural disaster or man-made disaster disrupted hard drive manufacturing in Thailand and caused a slowdown in PC production.
Sure enough, the worst flooding in decades in Thailand has brought hard drive production to a near standstill. Indeed, Shara Tibken of Dow Jones Newswires reported that "many tech companies -- including hard drive maker Western Digital Corp. (WDC) and component supplier Hutchinson Technology Inc. (HTCH) -- had suspended operations in Thailand as rising water flooded their facilities."
For small business owners and entrepreneurs, the floods in Thailand will result in rising IT costs. A shortage of storage devices will lead to a lower supply of PCs and, thus, rising costs per PC. Businesses that are using cloud-based applications may also see rising prices because cloud companies are heavily reliant on hard drive storage and servers that may be costlier due to the floods.
Already, prices are rising. Brooke Crothers of CNET interviewed a sales representative at Fry's Electronics who reported that "Prices are going up tremendously," noting that a 1TB (terabyte) drive that used to cost $50 is now selling for $99.
Other entrepreneurs may see opportunity in rising hardware costs. The market for refurbished computers, for example, should do better when prices rise for new computers. IT consulting firms will also reap the benefits of higher IT prices by helping companies to keep IT costs down in other areas. Along those lines, Jonathan Ladd, CEO of IT outsourcing firm Datacom, notes that small changes in IT can result in big cost savings. He notes, for example, that Datacom clients have achieved significant IT savings by right-sizing their Microsoft volume licensing to better match current conditions.
The hard drive component shortage comes at a time when the tech industry is otherwise booming. Bloomberg recently compiled the results of 2,900 tech industry financial analyst projections and determined that net income at top tech companies, such as Apple Inc. (AAPL) and Oracle Corp. (ORCL), are expected to rise 11 percent in 2012 on average.
The bottomline? As a result of flooding in Thailand, Mother Nature has thrown a curve ball to the world's IT companies and those who rely on IT to run their organizations. For some, this will have a negative impact on business; others will benefit from the recent changes in IT hardware supply and demand. By keeping abreast of such changes, business owners and executives can make smart strategy changes and tactical moves to ensure that they profit from the latest business news.
Share this article
---
About Our Small Business News
Our reporters cover all aspects of entrepreneurship. Our perspective is all about giving you news you can use to be a successful entrepreneur.
---
Additional Resources for Entrepreneurs