Small Business Technology News
What Small Businesses Can Expect From Windows 10
Written by Tim Morral
Published: 7/21/2015
Microsoft is about to release Windows 10. Here's what your small business can expect from the newest upgrade to one of the most popular operating systems on the planet.
Windows continues to be the world's most popular operating system for laptops and desktops, with implementation rates that dwarf iOS/OS X. For small businesses, Windows is an IT staple -- the operating system that companies rely on to deliver efficiency, reliability and security in the small business workplace.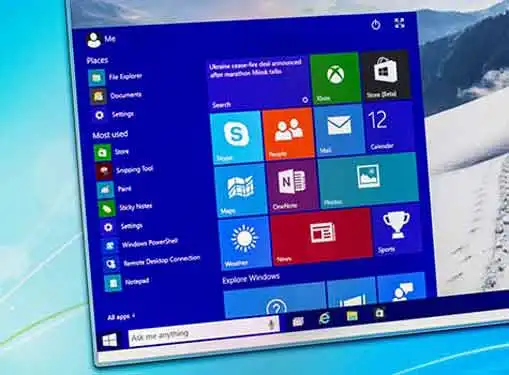 Photo Credit: RoSonic / Shutterstock.com
In 2014, Microsoft made the decision to no longer support Windows XP, even though more than half of all businesses were estimated to use the Windows XP platform. Instead, Microsoft encouraged users to make the leap to Windows 7 or Windows 8, which the company continued to support with patches, fixes and upgrades.
Not surprisingly, the discontinuation of support for XP didn't sit well with many businesses, especially since the reception for Windows 8 was lukewarm, at best.
The Benefits of Windows 10 for Small Businesses
In a matter of days, Microsoft is expected to redeem itself by releasing the next iteration of its operating system -- Windows 10. According to Spiceworks research, 96 percent of IT decision makers have expressed interest in Windows 10, and 40 percent of companies surveyed intend to implement Windows 10 within a year.
Here's why Windows 10 may prove to be a game-changer for small businesses:
Free Upgrades. Until now, Microsoft charged users $50 to $100 to upgrade to new versions of its operating system, while Apple has offered free upgrades for iOS. Upgrade costs have been a sticking point for small businesses, many of which can't justify dropping hundreds of dollars on a new OS every few years. With Windows 10, Microsoft will eliminate upgrade fees -- bringing the company in line with the expectation that users no longer pay for operating systems.
New Features. Windows 10 will include new features to streamline and simplify the user experience. In addition to a virtual assistant that will help keep track of users' schedules, Windows 10 will reintroduce the Start button -- a wildly popular feature that was eliminated from recent versions of Windows. Microsoft is also expected to release new features on a rolling basis.
USB Drives. Although many business users now download OS software online, some prefer to install the software using physical media, i.e., an installation DVD. But installation DVDs are history with Windows 10. Instead, Microsoft will provide USB drives for a cleaner, simpler way to install Windows software on devices.
At the end of the day, keeping up with technology isn't easy. But as a small business owner, it's important to evaluate your IT environment and invest in upgrades that make the most sense for your company.
And for a lot of small companies, Windows 10 will fit the bill and become an IT priority in the coming year.
Share this article
---
About Our News for Small Businesses
Our team publishes news articles for entrepreneurs every day. Our entrepreneur news articles review trends in business management, analyze the ramifications of regulatory initiatives, present relevant entrepreneurial research findings, and cover many other topics of interest to small business owners.
---
Additional Resources for Entrepreneurs