Real Estate Articles
Notary Public
Written by Brent Pace for Gaebler Ventures
If you are looking to close a real estate transaction of any kind, you will want to know what a Notary Public is and learn why it's important to have one notarize the documents to your transaction.
In many areas of business, oral contracts are entered into.
People shake hands, reach gentlemen's agreements, and move along. In real estate, however, all contracts need to be in writing. In addition to signing these contracts, many people like to have them notarized by a Notary Public as well.
What is a notary public?
Depending on the State you live in, a notary public can have different roles. In most States a notary public is a person that is certified by the State to verify the authenticity of a signature on a binding legal document. For instance, suppose you are entering into a lease agreement to lease office space for your new company. You may be leasing space in Chicago, but the owner of the building could very well reside in New York City, San Francisco, or a number of other locations. In order for both parties to get additional insurance that the contract is valid, your signatures will be verified by a notary.
How does notarization work?
When you get your copy of the lease, you will probably be asked to sign first. You will probably sign several original copies and then send them back to the Landlord to get his signature. You will then get an original copy returned to you for your records. Most reputable Landlords want you to have an original copy of the final executed lease for your reference in the event of an issue down the road.
The signature page towards the end of the lease could look something like this:
IN WITNESS WEHREOF, the Landlord and Tenant have executed this Lease on the date first set forth above.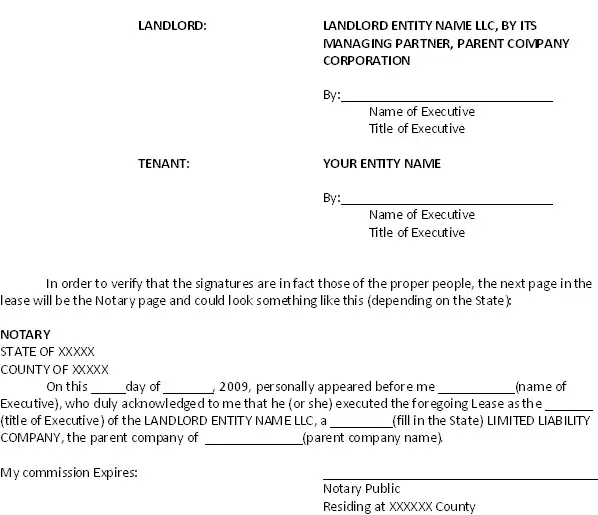 The bottom half of the notary would look similar with the information changed to reflect your information as the lessee. You would then sign and have your portion notarized and return for the Landlord's signature and notarization. When you receive your original signed copy of the lease back from the Landlord it should be notarized by their notary as well. In addition to the notary signature, the area underneath the "my commission expires" will be filled in with some kind of stamp or seal that notaries receive from their respective State or County. Be sure to check for that stamp to ensure the notary is authorized and registered with the appropriate authorities.
Brent Pace is currently an MBA candidate at University of California at Berkeley. Originally from Salt Lake City, Brent's experience is in commercial real estate development and management. Brent will have tips for small business owners as they negotiate their real estate needs.
Share this article
---
Additional Resources for Entrepreneurs