Small Business Technology Articles
Online Partnerships
Written by Stefan Martinovic for Gaebler Ventures
Online partnerships are an amazing phenomenon. Much more so than in the bricks-and-mortar world, companies are finding partners to help promote their offerings on the Web.
As you make efforts to grow your small business from virtual anonymity to worldwide corporation, developing and maintaining a company website is most likely a top priority.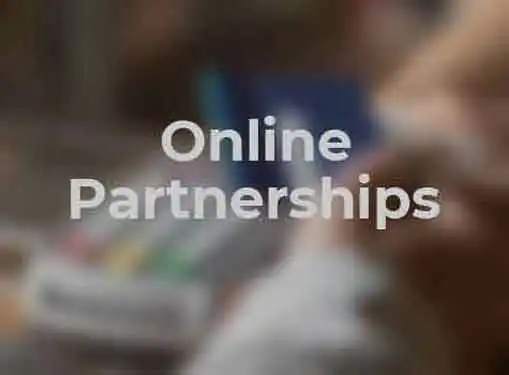 A company website provides your business with a global marketing platform and many of the same promotional opportunities afforded by traditional advertising.
One of the most interesting possibilities that can be had from creating a website is the potential for internet-based partnerships. Much like physical partnerships in which complementary companies engage in cross-promotion to enhance business, an online partnership can provide your company with a similar benefit.
The trickiest part of engaging in an online partnership is finding the right partner. Ideally, you want to find a partner who is both equally interested in reaping the benefits of a partnership and who can benefit from a relationship with your company specifically.
For instance, if you own a company that produces different types of sausages, entering a partnership with a mustard manufacturer would be a wise choice.
With this type of relationship, you can split the advertising costs and receive the same amount of promotion without shouldering the steep costs of advertising all on your own. This partnership also builds a relationship as a business partner. By teaming up with a business in a complementary industry, you can be sure that neither one of you will be impeding on each other's business and can benefit from some creative marketing schemes as a result.
One key benefit of an online partnership is that there are no geographical limitations imposed by the partnership. If you were to engage in a physical partnership, you would most likely be forced to team up with another local business so that both of your products could be obtained by the target audience.
With an online partnership, you can engage in marketing activities with a company based far away from your own and still reap the benefits. This is because your target market is being engaged through the internet, making geography irrelevant. Using the previous example, a consumer in Seattle could gain exposure to two complementary products he might be interested simultaneously and be able to order them both at the same time, even though the vendors are located in different corners of the country.
It is important to choose ad placement that will provide maximum exposure to consumers with the desire and means for your products. A good first step would be to engage in a cross-promotional effort on yours and your partner's websites. This allows interested parties to find out more about a product that they are interested in as well as a vendor-endorsed complementary product. When a fair degree of success is established with a small-scale effort, branching out to websites of similar interests, such as barbeque websites in the sausage example, would provide a greater portal for consumers to view both of your companies' products.
By engaging in online partnering, your company can gain a valuable ally in business even from across the country. As a result, product exposure and potential sales increases should prove highly beneficial to your business.
Stefan Martinovic has an extensive body of work across the financial services, manufacturing, and retail industries. He is currently pursuing an MBA in Management and Entrepreneurship at The College of William & Mary.
Share this article
---
Additional Resources for Entrepreneurs