Human Resource Challenges
Overtime Overload
Asking employees to work overtime is sometimes difficult. The key is to handle overtime in such a way that working overtime isn't a crisis but rather an essential yet temporary necessity that is good for employees and for the business.
If business always occurred at a reliable, steady pace, there would never be a need for overtime.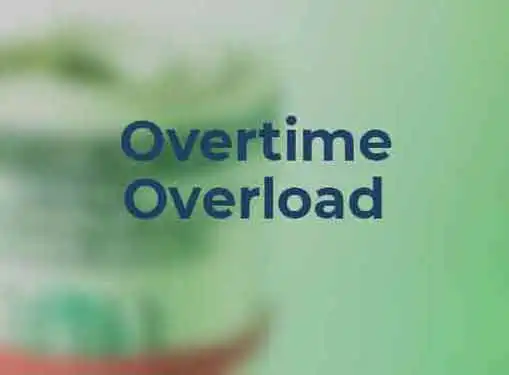 Employees would work at reasonable pace with time to spare for families, employers would eliminate costly overtime expenditures, and everyone would be happy.
But as a small business owner, you know that's not how it works. Business doesn't happen at a steady pace, it happens in cycles. Sometimes you are hard-pressed to find enough work to keep your employees busy, and sometimes you're so busy that you've got everyone on your staff working as many hours as they can handle. During a financial crisis, it can get even worse because you have fewer employees carrying the workload.
Unless you know how to finesse your staff, hard times can be a major stumbling block for your company. Employee discontent is a toxin that can quickly spread throughout your company, severely damaging your bottom line and threatening your future viability in business.
It is possible to get through hard times with your staff and your business intact. But to do that, you're going to need to follow a few basic principles.
Be transparent. Frequently, the source of employee discontent has less to do with having to put in extra hours, and more to do with being kept in the dark about what's going on. Think about this way: You wouldn't appreciate being thrust into the middle of a difficult situation with their eyes closed, would you? Neither do your employees. By thoroughly explaining the situation to your staff and assuring them about its temporary nature, you will give the employees the information they need to commit themselves wholeheartedly to the task at hand.
Keep them in the loop. After you've explained the situation to your employees, continue to give them periodic updates about the situation, particularly if you reassured them that the situation is temporary. If they can see light at the end of the tunnel, they will be less likely to complain and more likely to work harder to complete the job.
Reward them for their efforts. In a pinch, rewards are the best resource you have to tell your employees that you appreciate their efforts. Cash compensation for overtime is always good, and in some cases required by law, especially if your employees work on an hourly basis. But other types of rewards can be equally effective, too. A staff party, a catered lunch, even a few kind words can go a long way toward reassuring your staff when they are on work overload.
Roll up your sleeves. As the owner of the business, your actions will be under the microscope during tough times. If you require your employees to work extra hours while only working normal hours yourself, prepare to have a mutiny on your hands. Instead, roll up your sleeves and as much as possible work alongside your employees until the job is done. Your willingness to get dirty will inspire them and motivate them to give you their best, both now and after the job is completed.
Share this article
---
Additional Resources for Entrepreneurs