Business Finance
Projected Budget
Whether you're a startup or a thriving small business, a projected budget is going to shape your decisions for at least the next twelve months. Here are some projected budget tips to help you stay ahead of the game.
As much as you would like to think that your strategic plan is the primary driver for decision-making, your company's projected budget probably has the most influence over the decisions you make in your business.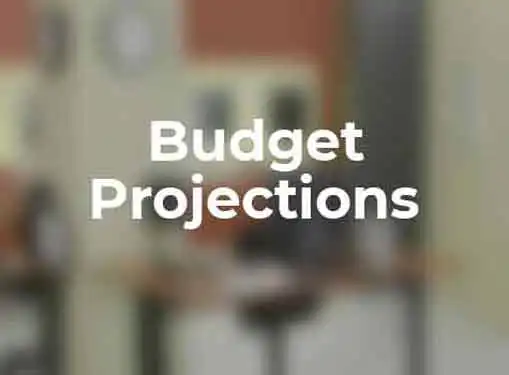 If there isn't room for it in the budget, it's not going to happen - no matter how important it may seem.
Creating a projected budget for an existing business is a relatively straightforward process, mostly because you have a history of actual financials to use as a basis. Although projected budgets for startups or business plan budgets are trickier, it's important for your budget to be as thorough and accurate as possible.
Like it or not, the quality of your projected budget will impact the future of your business. There is a lot at stake - and our projected budget tips will help you create the kind of budget you need to make informed leadership decisions.
Create a spreadsheet. Spreadsheets are the right tool for creating projected budgets. Business accounting and business plan software usually includes a budget module that serves the same function as a spreadsheet. If yours doesn't, you will need to use a spreadsheet solution (e.g. MS Excel) rather than pen and paper.
Start with last year's financials. Existing businesses usually build projected budgets based on last year's actual financial statements or in some cases, multi-year averaged financials. If you're a startup, you don't have actual financials yet. But with a little effort, you should be able to get your hands on actual or sample financials from a similarly sized business in your industry.
Use benchmarks. Industry benchmarks are a great budgeting tool because they provide a gauge for measuring each budget item against industry averages. Although it's not useful to create a budget based exclusively on industry benchmarks, benchmarks help you perform a "sanity check" for each budget category and identify areas where expenses are out of line.
Consider new initiatives. Last year's financials establish a baseline for this year's budget. But they don't tell the whole story. You'll also need to consider any new initiatives or business conditions that will have an impact on the current year's revenues, expenses and profits.
Identify inefficiencies. A projected budget is a tool that can be used to highlight inefficiencies and target expenses for cost reductions. If an actual expense was significantly higher than you budgeted for last year, you need to know why - and you need to take steps to bring costs back in line.
Review periodically. Make a commitment to periodically (quarterly or monthly) compare your projected budget against your actual financials.
Share this article
---
Additional Resources for Entrepreneurs