Franchise Opportunities
Qdoba Mexican Grill
Qdoba Mexican Grill is quite a quality restaurant franchise. Think about what people value in a restaurant experience, and you'll find that Qdoba has incorporated those elements into their restaurant franchise opportunities.
Franchise Profile — Qdoba Mexican Grill
Qdoba gives the people what they want.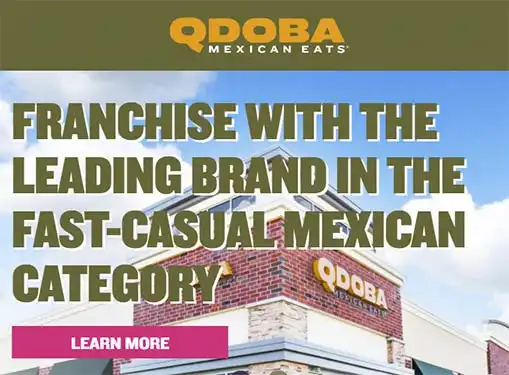 People want unique flavors and inventive taste combinations they can't find just anywhere. People want fresh, great-tasting food even when they don't have a lot of time. That's what Qdoba offers, and it's no wonder they are becoming so popular.
Qdoba boasts that they've attracted multi-unit franchisees who've had success with other top-name restaurant franchises. If experienced, successful franchise owners like Qdoba's concept, that's a strong endorsement.
Qdoba Mexican Grill is seeking multi-unit development partners in territories throughout the United States. Ready to take the next steps? Visit the Qdoba site for more information on their Mexican food restaurant franchises.
Learn More About Qdoba Mexican Grill
For more information on this franchise opportunity, visit:
More Franchise Opportunities
Browse more franchise opportunities in the Gaebler Ventures franchise directory:
Our Directory of Franchise Opportunities now includes over 2,000 franchise opportunities. If we're missing a franchise, please let us know.
Share this article
---
Disclaimer
This franchise information is neither a recommendation nor an endorsement of any franchise or business opportunity. The information is intended only to introduce our site visitors to partnering with a third-party group as a potential option for starting a new business. Franchise opportunities featured on our site may contain errors, and the information may be out of date. In addition, some franchise opportunities on our site may more properly be classified as business opportunities. You should always do your own independent and extensive research before investing in a franchise, as buying a franchise is inherently risky. Do the necessary due diligence, thoroughly review the legal documents, check references and engage qualified advisors before you invest.
---
Additional Resources for Entrepreneurs