Operations Management
Reducing Clutter in Your Operation
Written by Andrew Goldman for Gaebler Ventures
Clutter can get in the away of running a smooth and efficient operation. Whether on the manufacturing floor or in the office, the reduction of clutter can lead to a much more efficient operation.
Whether you are in a service industry or a manufacturing industry, clutter can be a major hindrance of productivity.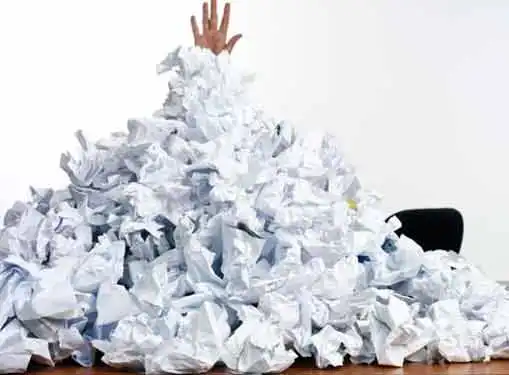 In your office or at your desk, clutter is unnecessary and unorganized. By eliminating clutter and becoming more organized, your company can operate more productively and more efficiently. Keeping a clean environment is not enough to succeed in this area; you want to be clean and organized. This means clutter must be removed from every corner of your company.
Clutter does not necessarily have to be unneeded product or material. Clutter can be stacks of invoices piled on your desk or boxes of raw materials stock piled on the manufacturing floor. The key is to have an organized place for all of our materials, whether in the office or on the shop floor. By having a place for everything we can be sure than products and materials will not get in the way of our daily operating procedures.
Using Just-in-time philosophies, you should keep only what you need in front of you at any given time.
This results in less bottlenecks and work-in-process inventory. Work-in-process inventory leads to queues and clutter. If we balance our workload, clutter is reduced and we can have a much better sense of the work that needs to be completed and at what pace.
For example, if you can only produce 100 hamburgers in a given shift, there should not be more than 100 hamburger buns in front of the workstation. You may have extra inventory of buns, but this inventory should be placed elsewhere, as the additional buns will only get in the way of the operating process.
Reducing and eliminating clutter can be made difficult by space constraints. If there is not enough room in our building or work area, we may feel clutter is unavoidable.
It's important to move away from this line of thinking and get creative. Is it possible for storage bins to be placed underneath the tables? Can we go vertical and put shelves in above our workspace? If you're having trouble finding room for materials, you may want to consider ordering in lower quantities or finding some other method of storage.
While these options may cost more, your operation will save money with reduced clutter and increased room to work. Productivity, employee satisfaction and quality can all increase when we have a smooth, uninhibited working environment.
Use a pencil and paper to map out your various processes. Include material that is needed for a given day as well as fixed pieces of equipment. Using pen and paper you can try alternative set-ups without much capital expense. In addition, you can get a better sense for the flow of work, and where clutter may get in the way of a smooth production process. In your office, unneeded file cabinets may require employees to walk extra distance or sort through unneeded paperwork to find what they're looking for. As a general rule, if there are items in your office or on your shop floor that are not being used regularly, move them out of the way.
Reducing clutter seems like a simple concept, but it goes unnoticed in many small businesses. The reason is that clutter is not always waste. Often times clutter hides a necessary product or inventory.
It is important to keep just-in-time principles in mind and only have on hand what we can use in a given day or shift. By operating in this fashion, the small business can increase their quality, efficiency and employee satisfaction.
Andrew Goldman is an Isenberg School of Management MBA student at the University of Massachusetts Amherst. He has extensive experience working with small businesses on a consulting basis.
Share this article
---
Additional Resources for Entrepreneurs