Franchise Opportunities
Roy Rogers Franchise Company, LLC
Looking for restaurant franchises? Saddle up and settle in with this famous name restaurant. Everyone loves Roy!
Franchise Profile — Roy Rogers Franchise Company, LLC
Roy Rogers is a western-themed, quick service restaurant, featuring a broad menu including slow-roasted, carved to order roast beef sandwiches, all fresh, all good.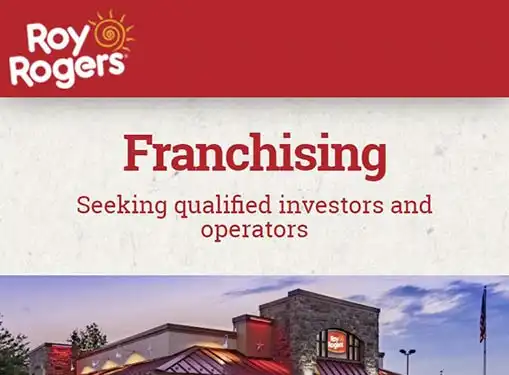 Roy Rogers franchises are powered by an iconic brand with widespread appeal. Their franchising opportunity taps into a wide array of strategic, operational and promotional elements that combine to make Roy Rogers a great restaurant and a great business opportunity.
Since its founding in 1968, Roy Rogers Restaurants has built its reputation and raised the bar in the quick service restaurant space.
As of April 2021, the company has 22 company-owned restaurants and 25 franchise restaurants in six states. They welcome inquiries from qualified franchise investors who want to be part of a long-beloved brand.
Learn More About Roy Rogers Franchise Company, LLC
For more information on this franchise opportunity, visit:
Roy Rogers Franchise Company, LLC
More Franchise Opportunities
Browse more franchise opportunities in the Gaebler Ventures franchise directory:
Our Directory of Franchise Opportunities now includes over 2,000 franchise opportunities. If we're missing a franchise, please let us know.
Share this article
---
Additional Resources for Entrepreneurs