Small Business Development Centers (SBDC)
SBDC Counselors
Who are SBDC counselors and what can they do for business owners? We take a look at the role SBDC counselors play and the services they typically provide for their small business clients.
As a growth-oriented entrepreneur, sometimes you need the advice of a business leader who have been trained to help small companies take advantage of next-step opportunities.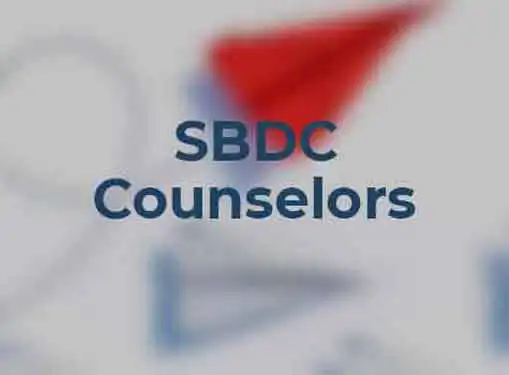 The Small Business Development Center (SBDC) network is known for its ability to provide free one-on-one consulting, training, and other services to America's small business owners.
SBDC counselors are trained business professionals with the experience and expertise to help budding entrepreneurs realize their full potential. Many SBDC counselors have earned advanced business degrees and have successfully owned/operated their own companies. One of the big advantages of the SBDC one-on-one counseling program is that the counselors come from highly diverse business backgrounds, bringing the breadth and depth of their experience to bear on the problems faced by today's entrepreneurs.
Every SBDC counselor is required to participate in professional development programs and SBDC counselor certification training. When you work with a SBDC counselor, you can be confident that you are working with a qualified professional who is capable of giving you informed insights on a variety of topics including the following:
Startup advice. SBDCs commonly work with new business owners to achieve a successful startup experience. The SBDC network has an impressive track record of success in this area with a new business being opened by an SBDC client every 43 minutes.
Business & marketing plans. Effective business and marketing plans are essential elements of small business ownership. However, creating these plans is not an intuitive skill for most entrepreneurs. SBDC counselors help their clients understand the process and create plans that get results.
Market research. Similarly, most small business owners are not prepared to conduct useful market research. SBDC counselors are knowledgeable about where to find qualified source materials and how to conduct a thorough market analysis.
Capital acquisition. Lack of access to capital is one of the primary barriers to small business growth. SBDC counselors help you tackle this hurdle head on by assisting with the identification of investment and financing vehicles.
Other business topics. SBDC counselors are prepared to help entrepreneurs address a broad range of issues. Other business topics that regularly appear on a SBDC counselor's radar include financial reporting & analysis, accounting, human resources, technology, networking, and even international trade.
Share this article
---
Additional Resources for Entrepreneurs