Business Strategies
SWOT Analysis for Strategic Decision Making
Written by Gregory Steffens for Gaebler Ventures
All businesses have goals that involve creating a sustainable competitive advantage over their competitors. This requires companies to develop effective business strategies that exploit their operational advantages over competitors, while minimizing their disadvantages. An effective strategic development procedure that links internal organizational strengths and weaknesses, with external opportunities and threats, is SWOT (strengths, weaknesses, opportunities, and threats) analysis.
To be successful, businesses must utilize their strengths, improve upon their weaknesses, and guard against their external threats and residual, internal vulnerabilities.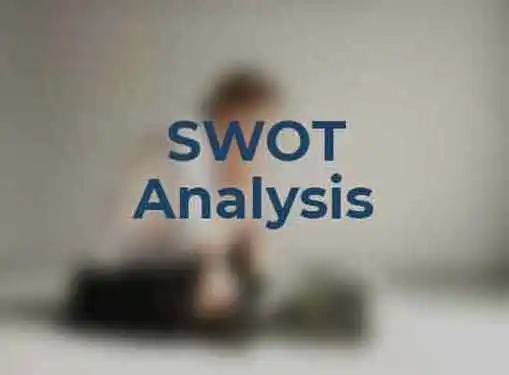 Simultaneously, companies need to evaluate their external environment to identify and exploit new opportunities before their competitors. SWOT analysis aids in this process.
Strengths
The first step in conducting a SWOT analysis involves identifying the strengths a company possesses relative to its competitors. Strengths come from the knowledge, abilities, and resources available to the firm that gives it a comparative advantage in the industry.
The capability to obtain resources, the quality of those resources, and the effective and efficient allocation of resources are all sources to creating a competitive advantage. Moreover, a company's ability to adapt to environmental changes, to maintain sustainable growth, and to create or penetrate new markets can be its potential strengths.
Weaknesses
Second, a business needs to identify the vulnerabilities within its organization that competitors could exploit. Weaknesses are any limitation or deficiency in the firm's resources and competencies that could hinder its performance. Common sources of company weaknesses include ineffective management, insufficient resources, inefficient processes, and obsolete technology.
A company can deal with these vulnerabilities in several ways. First, it can fix the recognized flaw. Second, it can protect its operations through strategies that conceal or prevent competitors from taking advantage of the defect. Finally, the business can act aggressively towards its competitors to divert their attention from the defect.
Opportunities
The third step requires a business to determine potential opportunities to pursue in its industry. These possible opportunities are numerous and compel a firm to be thorough when evaluating their effectiveness. A company needs to clearly define the type of good or service provided, the targeted market, the resources required, the capabilities necessary, the returns projected, and the amount of risk involved. Potential opportunities can result from identifying an overlooked market segment, changing industry regulations, advancements in technology, and improvements in buyer or supplier relations. Moreover, a business can exploit the weaknesses of competitors by targeting and attacking their frail positions to gain market share.
Threats
Finally, every SWOT analysis requires a business to identify its potential threats.
Any situation that puts a company in an unfavorable position or impedes its efficient operations can be classified a threat.
To adequately identify these situations, the organization needs to evaluate its industry's macro-environment. This entails assessing the industry's social, economic, political, technological, natural, and international segments. For instance, changes in consumer preferences or advancements in technology can render a product or service obsolete. Additionally, economic and regulatory changes or the exhaustion of natural resources can make production infeasible. The international segment deals with increased competition from global competitors entering the company's markets.
Gregory Steffens is a talented writer with a strong interest in business strategy and strategic management. He is currently completing his MBA degree, with an emphasis in finance, at the University of Missouri.
Share this article
---
Additional Resources for Entrepreneurs